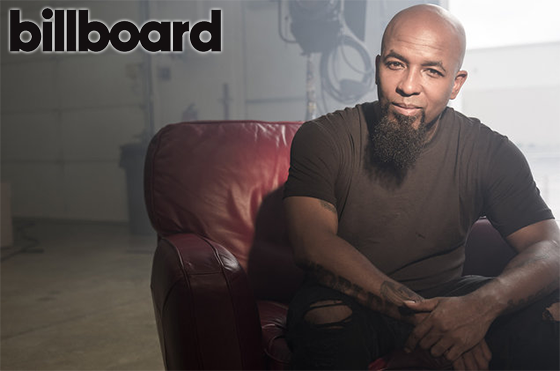 Tech leaves no stone unturned when discussing The Storm in this interview.
After the first listen of The Storm, it is very clear that Tech is reaching into every part of who he is to create a masterpiece for the masses. It is also very clear that it took long hours of hard work and dedication to put it together.  Tech N9ne goes in-depth about the latest addition to his discography, The Storm, writing emotionally, the state of music streaming, and more with Billboard.
Thinking about the state of the hip-hop industry and the rappers that dominate it, Tech knows he does not fit in the standard "mold" of the typical rapper in 2016. However, he knows he should not go unnoticed because of his lyrical abilities.
I always knew that I didn't fit in, but one thing I had that was compatible with [past collaborators] Lil Wayne, Andre 3000, B.o.B, T.I., and 2 Chainz, is I've got lyrics, man. I know how to do music, no matter how weird I look on stage with the face paint, mask and hospital scrubs. I'm not trying to be all pretty onstage like everybody else, and I know I'm different, but the fact that I am is the reason I'm still here today.

– Tech N9ne
They also discussed his comfort of rapping about sadder topics. Anyone who knows Tech N9ne to any extent knows he is a confident rapper, unafraid to address emotional events in his life. His outlet is music, and he tells stories with his music constantly. It allows him to gain a deeper connection with his audience, giving them the reassurance that people are not as alone as they think.
As I got older, I started realizing that though people differ in skin tone, religious beliefs, cultures, and food, one thing we all have in common is emotions, so I tapped into emotions. If I have an emotion about a psycho b-tch trippin' out on me, how many more million people went through that? If I'm sad because my life or money ain't right, how many more million people can relate to that? People can relate to those emotions. That's where I found my fans.

– Tech N9ne
With the improvement of streaming in the music industry and the expanding list of potential features, Tech N9ne will continue to own the lane he created for himself.
Click here to read the full article
What do you think of the interview?
Do you think streaming will make a positive or negative impact on the music industry in the future?
Let us know your thoughts in the comments below!
CLICK HERE TO PURCHASE THE STORM ON iTUNES!