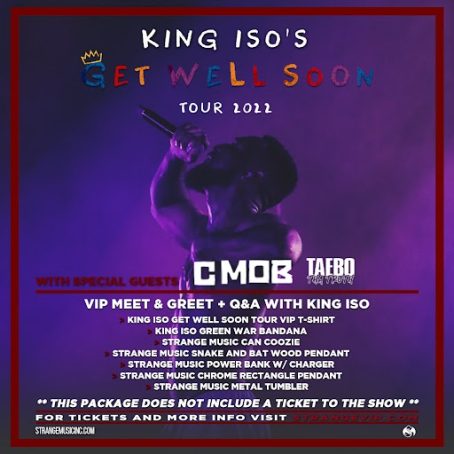 You asked, we listened! King Iso's Get Well Soon Tour now has VIP packages available for purchase on strangevip.com! The VIP package will include the VIP Meet & Greet with Q&A with King Iso, an exclusive Get Well SOon Tour VIP T-Shirt, King Iso Green War Bandana, a Strange Music Can Coozie, Snake And Bat Wood Pendant, Power Bank with Charger, Chrome Rectangle Pendant, and Metal Tumbler. Be sure to grab your ticket to the show at strangevip.com also and experience this once in a lifetime performance from C-Mob, Taebo Tha Truth, and none other than King Iso himself. 
*This package does not include a ticket to the show*
CLICK HERE right now to be King Iso's VIP Isoldier in your city!