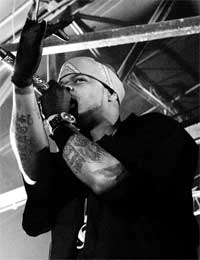 The lights dim in a movie theater. You're there to experience the film you've been waiting to see for months, yet there's a delay. "You watch the previews, but the feature presentation is the main thing that you're there to see," says Kutt Calhoun. "I wanted this album to be like that, that everything else you've been hearing was a preview. My album is the main thing, the Feature Presentation
.
Yet Feature Presentation, the Kansas City rapper's second album, packs more entertainment than your typical movie. It contains the action of a summer blockbuster, the storytelling of an Oscar-winner for Best Picture and the type of humor you call your friends about. That's because with Feature Presentation Kutt Calhoun has emerged into one of rap's most captivating storytellers, regardless of topic.
On the muscular "Speed," Kutt imagines himself being chased by police while driving with a lady friend, while the rock-fueled "Bunk Rock Bitch" talks about his wild encounters with women on the road. The piano-accented "Run Away (The Breakup)" details the rocky road men traverse when dealing with a women who cannot be satisfied. Then, on the dark "Good Friend", Kutt plays the role of a man who has to counsel a woman who suffers at the hands of her abusive beau.
"He mistreats her because he has some insecurities because he's narcissistic," Kutt explains. "The girl ends up calling a guy like me to be the Calvary, to come swoop her up and give her what he can't, whether that's some good loving, some nice conversation. That's what a 'Good Friend' is."
Elsewhere, Kutt Calhoun takes it to streets with his update of Ice T's classic gang expose "Colors", details the rugged Kansas City streets on "Killa City" and slams haters on "Stop Jeffin'".
Kutt then reflects on his rise to fame on the guitar-backed "The Green Mile". Here, Kutt digs deep into his reality by exploring the relationships he develops while visiting cities time and time again while on tour.
"It's about being on the road and the tour is the green mile," reveals Kutt, who originally toyed with the idea of having each song title on his album come from the name of a movie. "It's the money road, where we get our bread and butter. When you start touring, you start messing with different chicks and different cities and that can lead up to you knowing them for a couple of years. It's like she's your girl for that town. But in the end, you've got a girl at home, so it can never be what the girl on the road wants it to be. The song is about me having love for the girls on the road, but it can never be as serious as they might want it to be."
Making a living while touring the country has an equally potent pull on more serious relationships. For instance, while touring the world with labelmate Tech N9ne, Kutt spends a tremendous amount of time away from his children. Kutt wrote the soulful, gentle "Letter To My Kids" in order to let his children know that he loves them, despite being away from them months at a time.
"I've been waiting to do a song like that," Kutt reveals. "I needed something personal, some heartfelt stuff on my album and I hadn't received that type of beat yet. I got that beat at the last minute and I wrote it right there in the studio. I needed to let my kids know how I feel about them since I'm out on the road all the time. I miss birthdays and miss their calls. I wanted to let them know how I felt. It's something they can listen to years down the line. Everyone that has heard it has cried. That lets me know I did my job."
Kutt Calhoun is able to pour such emotion into his music because of his own tumultuous childhood, one filled with struggle, pain and uncertainty. Growing up in Kansas City, he split time between his mother's and sister's houses and was a talented writer, applying himself to writing raps. But by the time he was 16, Kutt was running the streets and supporting himself.
Nonetheless, Kutt's passion for rhyming was going unfulfilled. Fortunately, he met Tech N9ne in the late 1990s and impressed Tech N9ne with his ability to rap nonstop for hours at a time. Wowed by Kutt's skills, Tech made Kutt one of his hype men. Nearly a decade later, Kutt Calhoun has performed thousands of shows in front of hundreds of thousands of fans on three continents with Tech N9ne.
In 2004, Kutt Calhoun released his first album, B.L.E.V.E. Short for Boiling Liquid Expanding Vicious Explosion (a term for the hottest temperature possible), the collection established Kutt as one of the Midwest's most promising acts.
As B.L.E.V.E. made an impressive splash on the independent rap scene thanks to red-hot selections like "Bring Da Flames" and "To Whom It May Concern", Kutt spent his time touring the world with Tech N9ne and appearing on albums from Tech N9ne, Krizz Kaliko, Skatterman & Snug Brim, and others.
And now it's time to refocus on Kutt Calhoun. That's why he's returned with Feature Presentation, a marked progression from his first album.
"I've matured a lot since B.L.E.V.E. as far as content, subject matter," Kutt says. "I've improved as a writer and a performer. This is the thing that everybody needs to listen to."