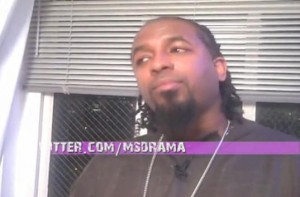 We found this interview of Tech N9ne taken around the beginning of the year with Ms. Drama TV. Tech starts off to address K.O.D. Holding the album in his hand, he explains its meaning, why he had to create it, and why he never wants to go back into that frame of mind again while making an album. Tech breaks down the route to independent success: hitting the road nonstop and creating a fanbase that stays loyal, unswayed by radio or television exposure. Tech also shares an anecdote of his intoxicated evening at the MTVu Woodie Awards when he won the "Left-Field Woodie" award for independent success. Tech closes the interview by sending a message to up-and-coming MCs:
"No matter how much they say: 'It's not a real job. Too many people are rapping. You need to get a real job. You need to do this. You need to go get a job down the street. Music's not going to pay you.' No matter how much people tell you that you shouldn't do music because it's not going to pay, and it doesn't pay–if you feel it in your heart…keep pushing. I've been knocked down so many times by major labels to where you want to shoot yourself in the head sometimes: the money aint right, can't buy no diapers for your little one–no, keep pushing. If you believe in it, you will achieve it. Just look at me: Tech N9ne…number one."
Click here or watch below to see the interview.