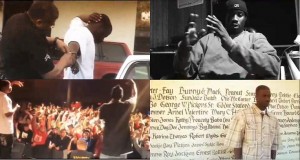 If you don't know who Jay Rock is by now, this is the video to watch. The following is a Electronic Press Kit video put together by Top Dawg Entertainment, featuring Strange Music's newest signee, Jay Rock. This video covers Jay's upbringing in the Nickerson Garden Projects and displays a firsthand account of the notorious housing development that shaped the lives of Jay and those around him. It's an environment where anything can happen, most of it bad: "Nobody in their right mind would live here if they could live anywhere else!" flashes an anonymous quote. Jay breaks down his upbringing and how it was affected by crime, gangbanging, and the "gang injunction" rule that allowed police to arrest groups of five or more…for any (or no) reason.
Jay continues and describes the blessing in his life that is his music, the thing that keeps him off the streets and allows him to prosper against all odds. During this clip we're allowed a glimpse as Jay spits rhymes on the stage and in the studio (reading lyrics saved on his phone). Select rappers and DJs make some guest appearances including: Independent Grind Tour-mates E-40 and Glasses Malone, WC, Grandmaster Flash, DJ Kay Slay, The Game, DJ Quik, DJ Skee, and Lil Wayne, whom collaborated with Jay on "All My Life (In The Ghetto)". The video closes with a montage done over the track. Stay tuned for more on Strange Music's newest signee, Jay Rock.
Click here or watch below for the video.