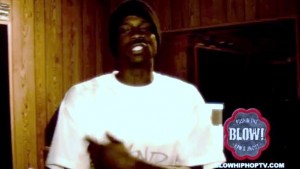 Hip hop website BlowHipHopTV.com recently did a full video feature on Jay Rock. First and foremost, Jay Rock breaks down what he's all about, dispelling any notions of him being just another gangbanger on wax:
"I aint about trying to promote niggas to kill one another, I'm about putting all my niggas together."
Jay Rock goes on to tell about his start in the rap game, citing the fact that originally it was just something to do for fun. Sooner than later, people let him know that his talent was real and that it could take him places far beyond where he was at. Luckily for Jay Rock someone close to him pestered him into the studio where he has remained ever since. Eventually Top Dawg Entertainment was created: "When you think about Top Dawg Entertainment just think good music–good music and real music" says Jay Rock, plugging labelmates Kendrick Lamar, Ab-Soul, and Schoolboy Q. Jay Rock also references New York as an inspiration to keep his hustle going: "everything in New York is a hustle". The video closes with Jay Rock flowing in the studio, combining clever rhythmic inflection with the honesty of someone who's lived what he raps.
Click here or watch below.