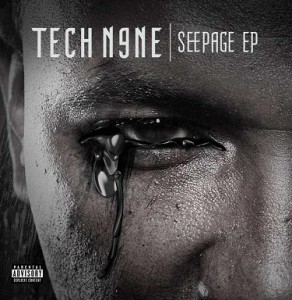 The title track 'Seepage' is the first song to kick off Tech N9ne's latest Seepage EP. The track opens up with leftover dialogue from the preceding "Choking From It" skit. In what sounds like an ancient tape that was recovered amongst wreckage, Tech describes the purpose behind his K.O.D. album: "my angel's dyin'…"
Then Tech explodes into a verse that possesses more verve and passion than we've heard from him since the aforementioned album. The beat he raps over is as ominous as can be, featuring a single bass note that continuously goes up and down an octave, offering no musical resolution, as if there's no escape from the darkness that Tech has tried to brush off time and time again. Most telling is the second verse, where at the end he addresses all his critics that thought he went soft on The Gates Mixed Plate:
"Big Yates, he's stuck in the sick state
Some speakin that his fate to be wack when he gets cake
Well, he gets cake and the critics they spit hate
But the sinister shit shakes, so long to the mixed plate
I just ate, pretty punany and mustard
cycles in lust, stars eating seepage, these nuts charred
What I got to say to the people who pick at and gut stars
Thinkin Imma lose the ability to bust hard, YOU FUCKTARDS!"
"Seepage" is a declaration: Tech's still got it, but not only that, he never lost it in the first place.
Click here to purchase your copy of the Seepage EP on iTunes.