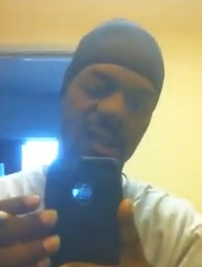 Brotha Lynch Hung is celebrating in style! Lynch went on YouTube to post a video of his hotel room in Reno, where he's having a double-celebration of his brother-in-law's birthday and the completion of Coathanga Strangla. Lynch's room included the finest amenities: sit-down shower, jacuzzi, mini-fridge, luxurious bed, and a view of Reno. While presenting the view from the window, Lynch drops a sly remark to the haters, describing his location:
"Right by the pepper mill in case you want to kill me!"
Click here or watch below to see Lynch give us a tour of his celebration hotel room. Don't forget to pre-order your autographed copy of Coathanga Strangla which includes a limited-edition album t-shirt and cover-sticker!