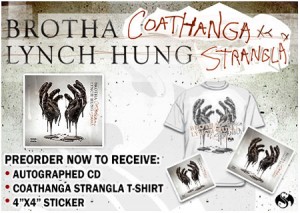 What started with Dinner And A Movie continues with Coathanga Strangla…
The second installment of the trilogy will hit stores 4-5-11, but here's your chance to pre-order it from Strange Music. Brotha Lynch hung is definitely upping the ante on what you can expect from his twisted mind with Coathanga Strangla – taking you to those dark places you never even knew existed with tracks like "Spit It Out" and "Mannibalector". Pre-order Coathanga Strangla to receive your autographed copy of the album, a limited edition pre-order Coathanga Strangla t-shirt and a sticker of the album cover. Don't miss your chance, pre-order Coathanga Strangla – it's the kind of album that will take your breath away and leave you begging for mercy.
Click here to pre-order your copy today!