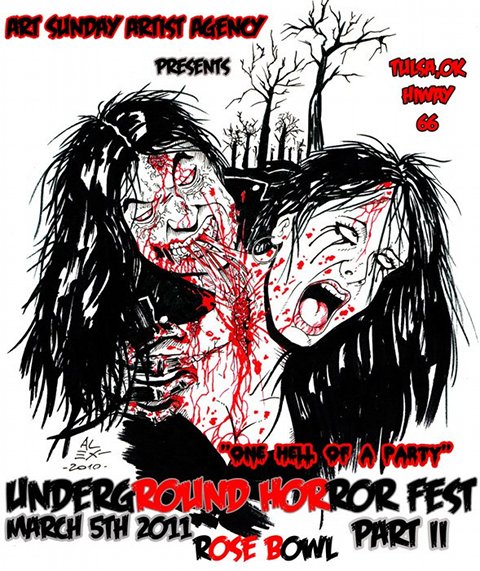 Strange Music will be proudly representing the Coathanga Strangla at the Underground Horror Fest Part II in Tulsa, Oklahoma. The horror movie convention goes down at the Rose Bowl in Tulsa on March 12 (the date has been switched from the 5), so if you're in the area be sure to stop on by for one hell of a party! Aaron Bean (aka therealBEAN), Strange Music online community manager and marketing assistant, will be hosting the Coathanga Strangla booth so be sure to stop on by and show him some love! Bean will be selling Lynch merch and handing out free promo materials as well as showing the Lynch videos in a movie screening room and at the booth. Admission is only ten dollars! The event will also feature:
The best in bands, artists, writers, actors, effects artists, filmmakers, models, and underground horror girls
DJ, Sideshows, and burlesque acts
Costume contest
Giveaways and contests hosted by the Underground Horror girls
A movie room hosted by Craig Mullins and unfilmable.com
The event starts Saturday March 12 at 2PM and goes on until midnight! Click the following links for more information
You can also e-mail undergroundhorror@yahoo.com for more information. Click here to pre-order your copy of Coathanga Strangla.