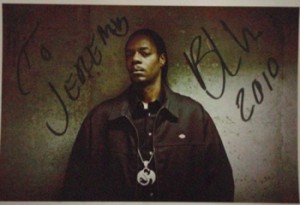 Strange Music's fanbase is unrivaled, and we have Jeremy Horner to prove it. Horner is not your everyday music fan. The Nevada native, who wears a blue Brotha Lynch Hung blue jersey in his Facebook profile picture, says he has also earned the official title of Street Team Lead for Strange Music in Reno. That's not the only evidence of Jeremy's interest in Brotha Lynch Hung and Strange Music. His Facebook profile boasts other photos of Jeremy in Strange Music gear, and even three personalized autographs: a Brotha Lynch Hung autograph, a framed
Murderdog
cover with Tech N9ne's autograph and a Cognito autograph.
Jeremy's first exposure to a Strange Music artist was in 1998. He heard "Soul Searchin'", a Midwest Records track featuring Jurassic 5, and immediately became a fan.
Jeremy has a strong memory of his first concert experience with a Strange Music artist. Read his account of it below:
It was the Absolute Power tour in Reno, Nevada in 2003. I decided to go because I had recently purchased Absolute Power at my local Wherehouse Records. There were only about 50 people attending the concert, and I honestly didn't know what to expect.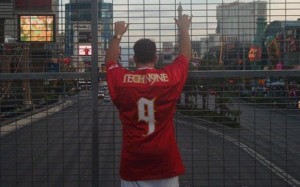 The crowd contained seemingly normal people and was relatively calm during the opening performances. Then it was time for Tech N9ne to perform. I was standing in the back of the venue thinking nothing of it. Once Tech N9ne hit the stage, the concert became alive. The music had a pulse. I noticed myself uncontrollably walking closer toward the enthusiastic crowd and Tech N9ne's animated stage performance. I came to realize that Tech had the word "REAL" painted in white, thick letters on his forehead with a giant red afro atop. The concert was very loud and energetic. To this day, I will always remember my first Tech N9ne concert as REAL.

Jeremy has been listening to Brotha Lynch Hung for 10 years. He became a fan after he was exposed to Lynch through a co-worker who played X-Raided and Brotha Lynch Hung everyday. Brotha Lynch Hung produced and made appearances on X-Raided's debut album, Psycho Active, in 1992.
Jeremy says as someone who enjoys horror movies, Brotha Lynch Hung fit into that category well. "It was right up my alley," Jeremy says of Brotha Lynch Hung's style.
When Brotha Lynch Hung talks about cannibalism and killing, Jeremy sees it as Lynch's way of expressing creativity. "He didn't scare me, nor did I take him 100% serious," Jeremy says. "I saw him as an interesting and talented emcee."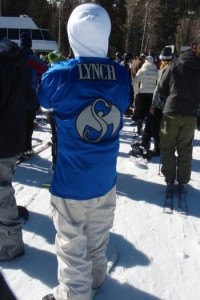 Jeremy's favorite album released by Strange Music is Brotha Lynch Hung's Dinner and a Movie. Jeremy appreciates that it's the first Strange Music trilogy album set. He also enjoys hearing from some the producers who worked on the album: Justinn "Axis" Patton, Michael "Seven" Summers and Andrew "Freddy Machete" Hackler. "Lynch's lyrics were on point," Jeremy says about the album.
Jeremy says he admires Strange Music's success story and business practice:
One reason I've stayed a fan of Strange Music is because they're a success story. I've been able to watch the label grow from a fan's perspective. I can actually remember when Tech and crew used to tour in small vans. To see what they've become today should be admirable for any fan of music or entrepreneur alike.
Jeremy says one of his favorite quotes is by Tech N9ne: "Do the work and believe in it. When you do it to the fullest, ain't no problem achieving it."
Click here to pre-order your autographed copy of The Coathanga Strangla, including a limited-edition album t-shirt and album cover sticker!