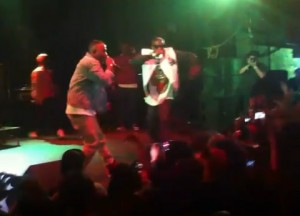 Jay Rock joined Top Dawg Entertainment's Kendrick Lamar on stage in front of a sold-out crowd at the Key Club Hollywood this week. Jay Rock was just one of many to make a guest appearance. J. Cole – who Kendrick will be teaming up with on a joint mixtape – and Big Sean also joined the lineup. Jay Rock joins Kendrick and Schoolboy Q at the 2:30 mark for a live performance of "I Do This."
Watch Jay Rock perform with Kendrick below.
Later in the show, Kendrick brought out Dr. Dre while playing "Kush" – the first single from Dre's long-awaited final album, Detox. Dr. Dre came out to show some love for who he calls the new West Coast.
"I just came out to show some love for the new West Coast hotness," Dre said to the crowd. "Kendrick Lamar doing big shit. That's all I wanted to do was come out, show my face, and represent. I love ya'll. My shit coming. Detox. West Coast: stand the fuck up."
Watch Kendrick bring Dr. Dre on stage below.
Who else do you think represents the new West Coast?