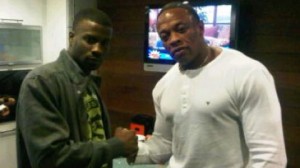 The photo of Jay Rock with Dr. Dre is making its rounds. This time, Jay took time to talk with XXLMag.com about his studio session with Dre and Kendrick Lamar. Jay Rock, who was a member of XXL's 2010 freshman class, had nothing but great things to say about the producer and his long-awaited album Detox.
"Man, that dude right there is a legend," Jay told XXL. "A million rappers would love to work with him. I'm just lucky to get the opportunity."
Jay Rock's debut album, Follow Me Home, is scheduled to drop on May 17. Click here for the full story.