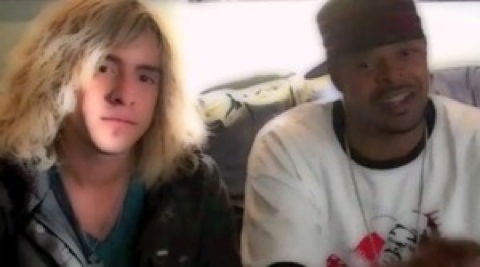 Lil Wayne isn't the only rapper venturing into rock music. Kutt Calhoun will be trying out a new sound on a track with Black Oxygen, an alternative rock band from Kansas City. Kutt sat down with David Lyle, lead vocals and guitar for Black Oxygen, to talk about the track that will be released on iTunes.
Tech N9ne made a quick appearance in the video right after Black Oxygen finished the track with Kutt in the studio. If you aren't familiar with Black Oxygen, get to know them. Tech said that Black Oxygen is about to be "the next big thing in rock." "Trust me," Tech said.
Kutt had a lot to say about his experience recording with Black Oxygen. "Definitely a nice track. One of the best I've done," Kutt said. The instrumental for the track features all-live music. From the sounds of the "Pressure" teaser in the video, we agree with Kutt: it definitely sounds like a banger.
Watch Kutt Calhoun and David Lyle in the full video with a teaser from "Pressure" below. "Pressure" will be released on iTunes on March 8.