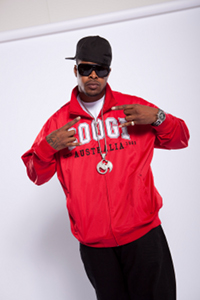 We all have the songs that we can listen to over and over, but what about what's hot right now? Kutt Calhoun shared with us his top 5 songs that he's bumping at the moment.
Kanye West – "Monster"
"I think that was an eclectic track. The beat, the format, the instruments and the flow that everybody had–they all came with it lyrically. If you'd just listen to that beat and there was no Kanye, it's not a track that most would pick to rap on. It was a brilliant way for them to express themselves. It's DIFFERENT. No one's rapping over shit like that these days."
Nicki Minaj – "Did It On'em"
"That song just is basically a show-out song. She's rapping very slow but she's very particular about her metaphors. It's so simple: the beat and her simple, savvy style that she uses on there with her obscure metaphors, which are so simple but yet impactful with that beat. This is not one of those songs where she chose to rap her ass off, she's just shitting on them. Very slow–so you can hear what she's saying. The beat plus her slow rhythmic pattern and simple metaphors make it an even better song. Slow and rough. It's so quiet but so loud. That's a classic show-off track for her."
Tech N9ne – "Sex To The Beat"
"Once I heard the hook that's all I needed. For us artists the beat talks to you. Since everything was all laid out–the hook, the verses–it wasn't hard for me to know what to do. I heard the hook and I was thinking 'This party track is going hard as hell!' It's not a far-fetched topic for me to cover, having done 'Sex Down South', 'Ghetto Love', and 'That Box'. So what can I do different on this one? It just came out. I wasn't trying to do anything particular. I just knew I wanted to give it my all. The porky pig thing stuck out to me. I wanted to use something to expand on calzone, which led to sausage, which led to porky pig, and gave me the flow pattern, and once I came up with that I just ran with it. As a rapper we are our worst critics. You know you wrote something good when you recite it you're like 'oh shit, this going to kill them!' and that's what I did."
R. Kelly – "Radio Message"
"'Radio Message' is what the music world is missing. It's a classic song and a classic tale of a guy trying to get back with his girl. He's calling into the radio because they have a contest to where they'll get a limo and tickets to a show. He's calling hoping that she's listening, and he wants his lady back. He doesn't want tickets or limo he just wants his woman. This is classic tale of man gets woman, loses woman, and wants her back. Verses on the radio these days are just like 'I'm moving on without you,' 'I should've cheated' and R. Kelly took it back to the good days when they sang about love, and that's what the industry is missing. Aside from him being one of my favorite artists, this is an amazing song. If we had more songs like this the world the better place."
Usher – "Little Freak"
"I tell you what, besides the lyrics, the beat alone is one of the hottest beats I've heard in a long time. That's the kind of shit I'm looking for. I'm telling producers 'Those are some cold ass beats but they're sent to R&B cats!' I'm like 'Send that shit to me!' The beat itself is immaculate. Usher is such a hard artist and Nicki did her damn thing. Usher wants Nicki to bring a freak back for a ménage à trois. Typical song of a man wanting three chicks. They achieved what they set out to do. That song is just one of the hottest songs on the radio right now."
What do you think of Kutty's list? Leave your thoughts below!