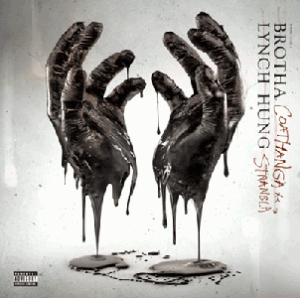 A pair of black hands ready to strangle at a moment's notice, dripping with blood that pools against a stark and pale canvas. Since Strange Music and Brother Lynch Hung have announced the pre-order for Coathanga Strangla, the iconic and gruesome imagery on the cover has been all the rage. Even at the early month of February, the album already puts itself in running for cover of the year in any musical genre. We got ahold of the designer himself, Frankie Oviedo of Liquid 9, to discuss the making of the cover. A horror movie buff, he found the project to be a perfect fit to his sensibilities. Frankie also went on to take calls from fans of Brotha Lynch Hung and reveal to all what it took for him to capture the essence of the Coathanga Strangla.
SM Blogs Interview With Frankie Oviedo Of Liquid 9 by StrangeMusicInc
Don't forget to pre-order your copy of Coathanga Strangla, which includes an autographed copy of the album, a limited-edition Coathanga Strangla t-shirt, and album cover sticker!