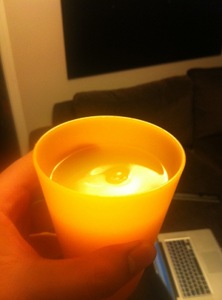 Oh my God! Last weekend the party was in full swing Caribou Lou filled up pitchers the world over! Jamie Beth was representing the land of the N9ne in the right way by making her own batch, while Cindy Stratton got a little too tipsy off of Tech's brilliant concoction, adding "oh what a night" to her admittance of intoxication! Must have been QUITE the night!
Toaster suggested that the famous-DJ Dubstep make a remix to "Caribou Lou". That would be quite the mash-up! Perhaps "Caribou Lou" mixed into a song by The Doors? Have at it Dubstep!
Sajarrr offered the bold declaration that "Caribou Lou will change your life". We couldn't agree more! One thing is for sure, ten lives will be changed forever for winning the Caribou Lou Gold Contest. Do your part to enter and make Tech N9ne history by downloading "Caribou Lou" today and sending your receipt to goldcontest@strangemusicinc.com! When Caribou Lou hits gold status, ten lucky winners will receive their very own RIAA-certified Caribou Lou gold plaque, autographed by Tech N9ne himself!