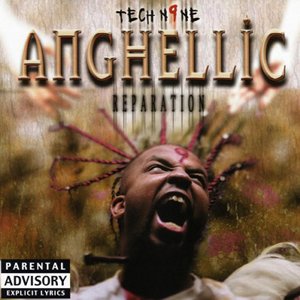 After years making noise as the hottest rapper in Kansas City, Missouri, [a musically prosperous city in the Midwest that still had yet to produce a major label rap star], Tech N9ne was set for the big time at the turn of the new millenium.
As of this time he had some of the most solid material to ever to come from the underground under his belt 1999's The Calm Before The Storm and 2000's The Worst and various hot "singles" that can be traced all the way back to the original 1993 cut of "Thugs Get Lonely Too" with the legendary 2Pac (a song that has subsequently been re-done by other notable hip hop heavyweights like Eminem). "Mitchell Bade", "Planet Rock 2K" and "Let's Get Fucked Up" with his KCMO Supergroup the 57th Street Rogue Dog Villains. Despite so much musical success the same couldn't really be said monetarily. Tech, who had been troubled in the past by bogus contracts and bad deals had finally landed a legit deal (or so he thought).
After meeting or collaborating with many of the biggest names in the industry (2Pac, Quincey Jones, QD3, Jimmy Jam, Terry Lewis and radio mainstays King Tech and Sway to name a few). Interscope Records subsidiary JCOR Records had taken interest in the N9ne and released the 2001 visionary-masterpiece Anghellic, a disc that was so original, innovative, and perfect in almost every way. From conception to execution it was damn near flawless. In the first week the disc went onto sell some 20,000 copies. Unfortunately, just as the album's first single "It's Alive" was being prepped for a music video, JCOR went bankrupt.
Tech N9ne had just made the majority of what I consider hands down the greatest hip hop album of all time. This was the album of his life: the culmination of everything he had been through to this point as an artist and as a person. The album was left in legal limbo. In need of money and comfort he decided to do what he knew best: tour, tour and tour some more. After those Anghellic-supporting shows he knew that this release had really touched people, his music had been felt deeply and personally by countless fans around the world. On stage he felt Absolute Power over the audience and with the help of former Priority Records A&R Dave Weiner's new company MSC Entertainment, Tech immediately put together his next release for 2002 the successful CD/DVD package; Absolute Power. The album sold more than 250,000 copies and spawned some radio-singles and music videos for "Here Comes Tecca Nina", "Imma Tell", "Slacker" and "I'm A Playa". The album also featured such personal cuts as "Trapped In A Psycho's Body" and the final response to his former right-hand man and producer Don Juan who had allegedly stolen a large sum of money from Tech "Yada, Yada, Yada".
While Absolute Power was being proven across the globe, CEO of Strange Music, Travis O'Guin, got Anghellic out of its legal trappings and back into the hands of its creator. Believing wholeheartedly in the strength of that album, Tech prepped a new release in the form of Anghellic: Reparation, which featured a few new tracks and a few left off for the better. Creating what is perhaps the perfect Tech N9ne album and quite possibly the perfect hip-hop album.
HELL…
As with any true art it can be misunderstood and oft taken the wrong way, such is the case of Anghellic, due to the dark images of Tech as a fallen angel calling out to the heavens with "liberate me" and an image on the inside sleeve of a portrait of Tech as the devil himself. What was a very deep concept of a man who struggles daily to maintain righteousness and fight his inner demons that included drug abuse, infidelity, abortion, death, care for his wife, children and his own well being, has often been twisted into accusations that he was a devil worshipper. In the new opening cut, "Devil Boy", he fought back for his album stating that he is not a devil worshipper and the title Anghellic, means good and bad, hence he's caught in a war within himself. Most prevalent he states that he's not in this for Satan: he'd much rather be partying 24/7.
After a quick intro in which we step into the "Hellevator", the listener is sent straight into the depths of the underworld in which Tech thrives. A "Tormented" abyss of sex, drugs, rock n roll and a lifestyle of excess that has effected his entire life.
Next up we have, "Stamina", a 14 second drive-by with a Tech N9ne followed by a gimpse of "Sinister Tech", the most vicious, evil, insane, incredible rapper sounding like a monster from the pits of hell destroying every single rapper in his path. Some of the sickest lyricism ever heard graces this track.
"Psycho Messages" is Tech's answering machine being possessed by a bad bitch named Whitney ranting, raving, and even making death threats. To set the mood, some eerie music comes through the background finally breaking into a telephone key-pad jingle of John Carpenter's iconic Halloween Main Theme. Tech's been terrorized by a "Psycho Bitch" and warns the listener of the warning signs so you can avoid one at all costs. Another brilliant track with some more ill-collabs between Tech and Icy Rock Kraven (who composed most of Angellic's hellish background score of bombastic beats).
Following shortly after we recieve another horrifying phone call. A girlfriend of Tech's calls and tells him she's pregnant. What comes next is a 'true story' of how Tech is a "Real Killer" having 'mudered five kids' through abortions performed by a hitman homie. Some raw shit, right here. Definetly not for everyone.
Throughout Tech's career despite gaining acceptance and working with the best in the biz his career has always been somewhat "Cursed" as told in this track revealing how much of a bitch the rap game really has been to him.
"Suicide Letters" is our last stop on the hell section of the album. It contains two suicide letters to his family and friends and is one of the most, if not the most, honest, personal, and touching song of his entire career. This one just has to be heard: a defining track that does more than show why Tech N9ne is one of the best artists of all-time in hip hop and rap. Superb lyricism here.
After being dragged through Tech's personal hell we now step back into Purgatory, a definite look into the existence of a rap star and his life while trapped between the living and the dead.
The first cut off Purgatory is an instant KCMO bangin' classic called "It's Alive". Tech N9ne is the heart of Kansas City rap and he's here to let everyone–North, South, East and West–know that right in the middle of the map is where it's at.
"Einstein" by Tech N9ne is a staple of live shows with it's energetic techno rap beat and a flow so intellegent and complex that it is in fact pure musical and lyrical genius like no other. Watch him blow up like the A-bomb, even though this track was recorded in the year 2000, ten years later still, no one comes close to "Einstein".
"Breathe", is reminiscent of a Bone Thugs style, featuring Tech in his most violent, rough, and criminal mindstate, calling out to all haters, gangsters and rappers that if they wanna make some trouble they oughta take a step back and just "Breathe", because gettin heated around the millimeter might end less than favorably.
"Who You Came To See" is a party track that isnt that far off from being reminiscent of some good old G-Funk from the early-nineties, but with Tech's futuristic flow and Krizz Kaliko's operatic chorus, it's more than just a throw back; it's an innovation on the past and a damn good one at that.
After the feel-good party we get another skit called "Wake Up Call", which finds Tech's homies on the interstate headed to the airport for another tour. Tech, still in bed and sounding hungover as hell, answers and is left with the task of going from 'Daddy to Tech N9NE' a skit that sets up the next track nicely.
The album's absolute highlight is "This Ring" a song in which Tech reveals that life at home and life on the road don't quite see eye-to-eye. Being on the road and having groupies and strippers after you every night while having a wife and three kids at home is a distinct trait that seperates Aaron D. Yates and Tech N9ne, though many times the line gets blurred. So real and so deep, "This Ring" is a song that even non-rap fans enjoy it. This is a masterpiece not only of rap and hip-hop but for music in general. Easily Tech's best and a top ten hip hop song of all-time for sure.
Being the ill rapper that Tech is, causes alot of imitation, hate and jealousy but the N9ne enjoys every bit of it. With a "God Complex" like his who could blame him. Infectious hooks and insane flows throughout here.
"F.T.I." is one of the new additions to the Reparation release. This song accompanies the "Fuck The Industry" adds that ran on MTV for a brief period of time during Absolute Power's release. This track features fellow Kansas City natives Kutt Calhoun, Krizz Kaliko, Skatterman, Snug Brim, and Greed. It's a great attack on the music industry-at-large and a killer collabo featuring five of KC's finest rappers.
"Going Bad" is a more in-depth look at Tech's struggle to make it as an artist in the music industry that is filled with con-artists and scams. He was once good, but this industry's got him going bad. Another real personal cut, that also ends the Purgatory section of the album.
"Heaven", as Tech explains, "There is only one song of me in 'Heaven' because I don't have alot of it in my life." He also notes that this last song features his good friend Roger Troutman before he passed away shortly after.
We are then graced with the heavenly "Twisted", a track where Tech basically whatever sick shit comes to his head at that moment in time. With Roger on the hook, reassuring him that his mind is fine and nobody flows like you…Tech N9NE is definetly a one of a kind. And with this ends a perfect album.
Anghellic: Reparation is definately the best hip hop album of the last decade and is worthy of being grouped among the best of all-time. If you don't have this record yet, GO GET IT! With Anghellic: Reparation, you get everything that is Tech N9ne. It is instrumental you listen to it because everything that comes after is just made stronger by the contents of this album. In the real rap and hip hop world it rarely gets any better than this album. The beats are some of the most intricate, complex and sonically amazing I've ever heard in my life. They are just so original and fit Tech's voice, flow and style perfectly. Just as his wicked delivery it can be hardly labeled as anything other than "Progressive Hip-Hop."