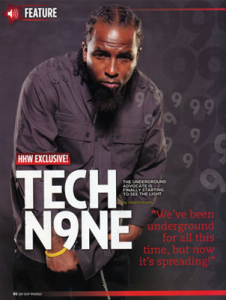 Tech N9ne is featured in the latest issue of the hip hop news publication Hip Hop Weekly. The article reflects on his present success and what it took to get there from the bottom up. One interesting fact to be pulled from the article is the number of features Tech has been a part of: a whopping 200. Tech didn't earn the title of independent hustler number one for nothing! The article closes off with Tech naming off the guests he plans on having for All 6s and 7s and from the looks of it, it's going to be a huge album for the King of Kansas City indeed!
Tech on his fanbase:
"Well, rappers tell me that their fans aren't loyal ike mine, and I'm like, 'We base our thing off touring.' From what I understand, a lotta rappers don't do a lotta touring, but we tour like Rock N' Rollers! We had touring before we had anything on the radio, so I'm thinkin' that's what it is–we already had a relationship with them before shit blew up. A lotta cats just do the Summer Jams once they get the big hit, then it's gone and the record company wants you to do another one just like it. If you can't do it then they drop you, then you ain't got nothin'."
Click here to read the entire article.