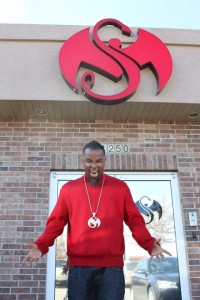 Tech N9ne is grinding again. He spent his Valentine's Day with a writer from UMKC while working on meeting a March deadline for All 6's and 7's. Tech – who the writer describes as focused and friendly – talked about his first raps, his commitment to Kansas City and Strange Music tours. The piece gives the reader a good look inside the world of Tech and Strange Music.
Tech on when he decided to become a rapper full time:
"It didn't hit me 'til my graduation day from high school. I won a contest months before to open at Kemper Arena, and it fell on my graduation day," he said. "The day I was supposed to be walking with my diploma, I chose to be on stage. That's when I knew what I was going to do for the rest of my life."
Click here to read the full article.