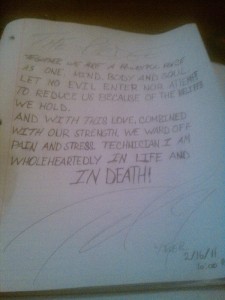 As Tech N9ne fans anxiously await the release of N9ne's new album, All 6s And 7s, the fans got a glimpse of what it means to be a "Technician" as Tech sent a photo and message to his followers on Twitter last night titled, "The Pledge (of a technician)". Tech stated:
Together we are a powerful force,
As one mind, body and soul.
Let no evil enter nor attempt
To reduce us because of the beliefs we hold.
And with this love combined with our strength,
We ward off pain and stress.
Technician I am wholeheartedly in life and in death!
After writing the pledge, Tech N9ne signed the paper and dated it.
What do you think of "The Pledge"? Is it based on beliefs that you hold true to yourself? Does this pledge mean more than what the eye can see? If you're a Technician, post your thoughts of the pledge in the comments below!