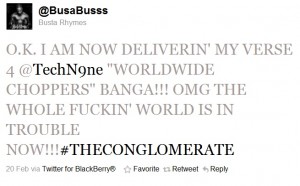 The "Worldwide Choppers" track has been one of the most highly anticipated songs-to-be-heard from Tech's upcoming release, All 6's and 7's, and as fans prepare themselves for the upcoming release on June 7th (6/7), a few of the choppers themselves went to Twitter during the past weekend to congratulate each other on a job well done. The buzz has been immense so far at this stage in the game: Yelawolf reached out to Tech several months ago to collaborate on a track, Tech went to ATL to record with Yelawolf and the major hip hop publications couldn't get enough about what happened during that studio session. On the other hand, Busta Rhymes has been mentioned several times in these discussions about the "Worldwide Choppers" track, though there hasn't been any official word as to him being officially involved in this project, until now. Busta Rhymes sent a tweet yesterday,
"O.K. I AM NOW DELIVERIN' MY VERSE 4 @TechN9ne "WORLDWIDE CHOPPERS" BANGA!!! OMG THE WHOLE FUCKIN' WORLD IS IN TROUBLE NOW!!!#THECONGLOMERATE"
Tech tweeted to Busta Rhymes (@BusaBusss on Twitter), "Fuckin dyin cause u killed it so hard!" Tech also including Yelawolf in the discussion, "Aye! @yelawolf wait till you hear what @bussabuss just did to us on worldwide choppers!" Keeping fans on the edge of their seats, both featured artists did respond to Tech. Yelawolf said, "Damnit!! .. I went Ricky Bobby on this one … Can't wait to hear BUSTA bring it home .. Tech thank you." And all Busta Rhmes could say in response to Tech's message was "lmao".
Check out how the story unfolded:

What do you think of this "Worldwide Choppers" collaboration? Which feature are you the most excited to listen to for this track? Is 2011 the "Year of The N9ne"?