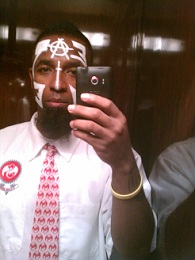 Following a string of shows that saw Tech N9ne and Krizz Kaliko tear it up in Canada, the Canuck The Industry Tour has finally reached the end of the road. Fans across Canada were not only given the opportunity to catch Tech and Krizz live, but also meet the artists with exclusive VIP packages that sold out nearly everywhere. After his show in Vancouver, Tech snapped this photo of his face paint before washing it off. Canuck The Industry made its last stop in Chilliwack, BC before giving way for Tech N9ne to travel back to the states for the All 6's And 7's Tour. No doubt, Canada will have much to remember thanks to the madness brought by the Kansas City King.
Follow Tech N9ne on his official Twitter page.

Click here to purchase tickets and VIP packages for the All 6's And 7's Tour.