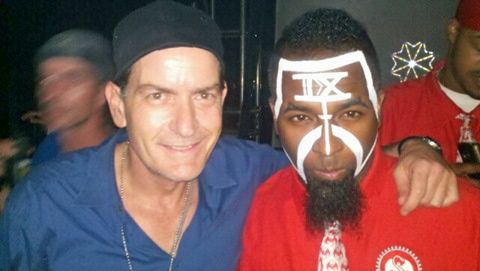 While Tech N9ne's roots will always be planted underground, he can't help the inevitable spread of his music into pop culture. It seemed like only yesterday when Lil Wayne single-handedly caused many to wonder "Who is Tech N9ne?" Now, after witnessing Tech N9ne's performance at the Gathering Of The Juggaloes, Charlie Sheen shared the same admiration for the King of Darkness by giving him a major endorsement on Twitter, telling his followers "do not walk….run" to get Tech N9ne's All 6's and 7's. With a Twitter following of 4.6 million and counting, Charlie Sheen's endorsement is no small matter.
We talked to Tech N9ne himself to get his take on what it was like to meet America's Biggest Winner. Along the way, Tech N9ne also shared what it was like to meet Ron Jeremy and also revealed his eagerness to take on performances at America's major music festivals.
Did you take the picture with Charlie Sheen before or after you went on stage for the Gathering?
It was right before I went on stage. He actually introduced me. He introduced me and then came to the side of the stage and he said "What's up man? Nice to meet you." And they said "Let's take a picture!" so we all took pictures. Me, him, then Makzilla took one, Kutt took one, and then Krizz Kaliko took one. I was performing and I saw him and his homeboy tripping off the show. "Riot Maker" was on. You know how you look at something and your face is kind of squished up like "Damnnn!" That's the way he was looking at me the whole time. If someone got some footage of the show, whenever I'm looking to the right of me, rapping, I'm looking at Charlie rapping right at him. That's why I'm looking over there like "Look what I'm doing nigga! You don't understand how hard this is, how beautiful this is, what I do!" When I got off stage he was like "This is the kind of shit I need to be listening to when I'm working out! I want the CDs! I want shirts!" We got him the five CDs but they had to get the shirts over at merch so it took awhile. His bus was leaving by the time Cross Eyed Joe got over with the shirts, so they had to drive the cart in front of the bus to stop the bus to give Charlie and them the shirts. They said "Thank you so much! We thought we weren't going to get the shirts!"
What was the exchange like when you first met him?
It was all smiles. Same thing happened with Ron Jeremy. When I said "My name is Tech N9ne" to Ron Jeremy he doubled-back, he was like "Oh my goodness! How you doing!?" I'm like "Yeah yeah yeah, I gotta go!" and he's like "I'm here to see your show!" I'm like "How the hell does Ron Jeremy know me?" Same thing with Charlie Sheen–when he saw me his face lit up and his mouth came open like "Hey! How you doing!?" He's smiling all big and shit like he was waiting to meet me, you know what I'm sizzling? It was funny.
What was your impression of Charlie Sheen?
It was right before I went on stage so my adrenaline was pumping. I was just thinking about Wild Thing in Major League and the role he played when he was young in Ferris Bueller's Day Off, when he was in the police station with Jeanie. I was like "Damn, this is the same dude I've been watching for all these years!" It was real quick though because the crowd was intense and he had already said "Give it up for Tech N9ne!" While they were waiting for me to get on stage, Charlie and I were taking the picture. My adrenaline was already pumping so I couldn't comprehend everything but it went through my head real quick that this was the dude I had been watching all these years and he was pleased to meet me. It's a wonderful thing. It's crazy how music travels–you feel me?
How did your impression of him compare to the way he put himself out there this year in the media? Is he as "crazy" as he makes himself out to be?
I don't know man. I missed all of it. I'm an alien. I missed the meltdown. I don't know whether it was a meltdown or not. I never seen it. I had no idea what Tiger's Blood was until he said it on stage. I hadn't heard of Two and a Half Men or whatever the hell that's been on for eight years–I never heard of it or nothing. I've never seen it or nothing, so he was the Charlie that I remember.
That's a real statement. I'm truly an alien. I don't get to watch TV. I miss a lot of stuff. I miss BET awards and stuff like that. If I catch it I have to be on my bus or something. So this all missed me. This Charlie Sheen thing that everybody is on, it all missed me. So I'm hearing about it from people since it happened. They call it a meltdown or whatever, some say it wasn't a meltdown, he was just kicking it. Some say he's on drugs. I didn't sense that. I just sensed somebody really happy to meet me and somebody that I was happy to meet because I have been watching him since I was a youngster.
Did you see what he said on Twitter about you?
I saw that man! I thought it was amazing. It just put a big smile on my face that he said "Don't walk, run to get these guys' album." I was like "wowwww." That was so beautiful man that he still thought about it after he left, you know what I mean?
Were you the headlining act of that night?
I was second-to-last. Twizted from Psychopathic Records were the last act. Right after I got off stage it started raining. I'm like "Wowww." So a lot of people I guess left because of the rain. It would appear that probably I was the headlining act because of the rain. We performed so hard that we made it rain motherfucker! But Twizted is the homies though you know what I'm saying?
So how does it feel though? This guy, Charlie Sheen, he was the quickest to a million followers on Twitter, he's all over the media. You talk about when Lil Wayne kind of blasted you. This would almost be put in the same category as far as someone really popular saying your name like that. How does that make you feel and what do you think is to come from that?
I think I retweeted it and everything. It just makes me feel good that it touches everybody. Good music touches everybody and it's just getting to Hollywood like that. We're in for a treat. We're in for a longer roller coaster ride than we thought because people are catching on constantly, and now Charlie Sheen is on. That's a beautiful feeling man. It's a beautiful feeling that after all these years it's still catching on and people are still catching on. On TMZ they saw Billy Dee Williams wearing a Tech N9ne shirt. That felt great. Somebody told me they saw Paris Hilton walking somewhere in LA with one on. It's just spreading, you know what I'm sizzling? When I got there to the Gathering, George Clinton's guitar player had on a Strange Music shirt. That's beautiful! I got to see that, you know what I mean? It's catching on like a forest fire, like I always said. Now, Charlie Sheen, if you take that back to his world, what you said he is, he's going to love that shit and it's going to spread. We gave him All 6's and 7's, five of them. All of his people wanted one. If they truly pop that shit in…it's over!
One more thing: your name is starting to get out there, especially with someone like Charlie Sheen talking about you, and I know that the fans love you doing festivals that are very underground-oriented, but do you see yourself playing festivals like a Lollapalooza?
Yeah, man! I see myself doing a Lollapalooza, I see myself doing a Bonnaroo. I see myself doing all those major things man. I see myself all over that shit man.
I think it would be great to see the look on all these people's faces who might not have heard of you.
Me too man, me too. It's going to be insanity and I'm ready. I remember back in the Killer days I said I was tired and maybe I should quit–I'm ready man. I'm ready. I've been doing these Strangeland tracks since I've been back man and I'm super-ready man. I'm listening to these lyrics over and over and over and it's getting better and better. I'm ready dude.