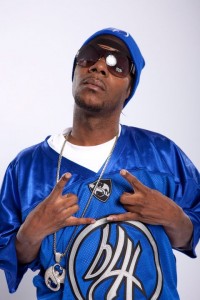 Brotha Lynch Hung has been in hiding for awhile–fighting the discomfort of a newfound and imposed sobriety and maintaining an enigmatic status for the past six months plus. Now, as he prepares to construct Mannibalector, the final chapter of the Coathanga Strangla trilogy, Lynch is with us again. We caught up with the candid and surprisingly polite MC to find out what's going on with Mannibalector, his appearance on Welcome To Strangeland, and how it feels to be smoking and drinking again.
What can you tell me about the songs you were on from Welcome To Strangeland?
Well like usual Tech sent me the track with his verse on it and everything. When I hear him bust it gets me amped up. I just write my stuff up real quick and try to drop it as quick as possible to shoot it back to them. Tech and I have that thing when we get on the phone together–it's going to be someone "Grrr!" You know what I mean? Not actually like we battling each other. We get on a song we have to be on point basically.
Did you hear about Tech referencing you in his BET Cypher verse?
Oh yeah! That's little bro! I really appreciate him for that. Tech, to me, on that program–all those rappers that was on there, he's the best rapper out of all of them. Just to me. Just my opinion. Man, I ride with Tech.
Following anything that's been speculated about your relationship with Tech, were there any concerns going into the collaboration?
Um…no…most of our main concern was that we're both emcees. That was the only thing that keeps us riled up is that we're both emcees and we both want to be the tightest ever.
How are things between you two now?
We talk at least three times a week–I know he's hella busy. Recently I just asked him to give me some pep because I'm about to do this next album and he sent me a text back. I'm not going to say what the text was but he gave me some inspiration to get into this album.
This will be the first appearance on a Tech N9ne Collabos album. How do you think fans will react to your guest spot?
Hopefully like they have been the albums. I hadn't seen Strange in probably about a year because I had to do this case that I caught so I've kind of been in the dungeon by myself and now I'm starting to be back in touch with Strange. Basically I've been sober for a year as far as weed and drink–almost a year. I'm getting back into smoking weed and drinking again and…let's see what happens.
When you were out of that, how was it for you?
It was a little frustrating because ever since I first signed a record deal my whole process of making an album was drinking and smoking weed. Half of the Coathanga Strangla album I had to do sober so I felt a little funny about it but I know it's in me to always make a good album–so it didn't kill me but now I'm glad to be back right now smoking weed and drinking. Now I'm about to go seriously Mannibalector on they ass.
We talked to Seven and he said you've requested the darkest music out of everything so far–even the Holloween EP which we don't know if we're ever going to hear or not. First tell us about the music that you're requesting and what you're going for with this album.
Okay first of all the goal with this album…as you know in the very first album Dinner And A Movie he was a rapper that was undecided on what he wanted to do with his life, be a rapper or a murderer. So that was Dinner And A Movie and you can see the transformation onto the Coathanga Strangla when he starts going a little overboard with picking murdering over his music. He just went through a lot of bad stuff on Coathanga Strangla. He had that song about his girl that a lot of people do like on that album–and he just went through a whole bunch of stuff. Now Mannibalector is where he goes overboard more with the murder side–like he's going all out–so I requested really dark beats because he's going to be talking some stuff that I hope Trav don't snatch off the album [laughs]. You know what I mean? But you know Trav you know, they run a respectable label and stuff but I like to tend to go overboard sometimes because it's just in my mind–I think like that. Plus that was the whole concept of the three albums that I was doing in accordance with the story of Mannibalector.
How about the Holloween EP, I take it that it's not coming out. Do you have any plans for those songs? What's happened with that?
Well I'm going to keep the songs but I think I'm going to do next Halloween because I wasn't able to capture the darkness of Halloween in time enough to drop it. When I do something I want it to be right so I'm going to drop that next year. Strange doesn't know that yet but I was going to offer them that and everything. But I had to go darker…and it wasn't dark enough yet.
Stay tuned for MORE from Brotha Lynch Hung as he addresses his feelings on Tyler The Creator!
Click here to pre-order Welcome To Strangeland.