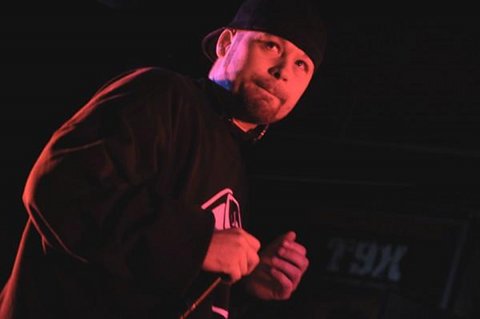 Brian Fraser was born in San Antonio, Texas on April 7, 1978. He lived there until he was eight then spent time living in San Diego, California with his mother before moving to Eagan, Minnesota to live with his father. He earned his nickname long before he made his stop in Kansas City and hooked up with a frustrated independent rapper and his extremely business-savvy partner in 1998.
For those that aren't aware of this, Brian Fraser is better known throughout the world of Strange Music as Scenario. If you have been to a Tech N9ne concert you have heard his commanding voice work the crowd into a frenzy between each set. Even if you haven't yet been to a concert, (why the hell not?) if you have purchased a Tech N9ne album you have heard him as well. Notably on the "Worst Case Scenario" skit and the intro to "Drill Team" on Tech N9ne's album Killer or the intro for the song "Low" off of Tech N9ne's K.O.D.
While it is looked at as a rising independent record label from the outside, Strange Music resembles a family from the inside. Scenario loves all of you like family, and I had the privilege of asking a member of this loyal family a few questions.
Ladies and Gentlemen! Technicians! I give you "STRANGE MUSIC'S RINGMASTER OF CEREMONY!" The one…the only…SCENARIO.
Where did the nickname "Scenario" come from?
My homeboys decided I was worst case scenario when I was like 12. I was always the kid trying to plan for getting caught. I'd supply the escape plan and the story if caught.
What kind of trouble did you get into?
Well I paid a lot of money to have it all go away and with it went my memory… LOL. Actually like how I got the nick name "Worst Case Scenario," I have really avoided getting caught a lot but when I did OH BOY!
What was the best "Scenario story" that you told to try to get out of trouble?
Not telling! Sorry 'n shit!
How do you connect with Strange Music?
I met Tech at a rave I was throwing in Cameron, MO way back in like 1999 I think. Wow weird, 1999, anyway then I ran a night club in Kansas City that he started to frequently visit to premier his new songs. That was around the time him and Travis started Strange. Trav and Tech then started using the club I was running as a spot for release/birthday parties. That is when I met Trav. I won't go into detail but bottom line is Trav was witness to my quitting the club after Tech's birthday party when owner tried playing me. I'd like to think that's when Trav took notice and respected my move. About a year went by and I was then working for Red Bull as the events manager. I then tried to get a sponsorship for Tech by tagging along on certain shows around Midwest. I would totally deck out the green room. I literally turned dirty ass dressing rooms into some plush comfortable environments. I got burnt out with that and a job with Strange opened as the lighting guy. Then it was just two small moving lights and a laptop. We came a long way since that little set up…LOL.
What titles/duties have you held/performed for Strange?
Production Manager, Lighting Designer/Director, Face Paint Artist (I paint Tech's face) and Official Touring Host MC.
How did those jobs come about?
Lighting I already said. Face paint – My first official show Tech realized the guy I replaced also painted him, so he asked if I could do it. Production Manager – I don't know, I kind of just took the lead in that department. Host MC – I'd been doing that since way before Strange, at raves or concerts or clubs. LOL. I knew the right people to get those opportunities and am damn good at it, or so I am told.
WHAT DOES STRANGE MEAN TO YOU?
"SACRIFICE/FAMILY/HONOR/LOYALTY/RESPECT/THE FUTURE!"
What have been the some of the highlights of your Strange Music Career?
Seeing and feeling the love for not only my friend (Tech N9ne) but for all the hard work and sacrifice we endure. Seeing all the different people and different places. Touring and working with other artists, even some I grew up on.
Do you enjoy the touring life? What are a few pros and cons of touring?
I love what I do so yeah, for the most part but I miss a lot at home and with family. We recently lost a good man and good friend on tour, "EMJ". It was hard but we pulled thru and finished tour for him. Now every show is dedicated to him and all our fallen loved ones….
Any stand out story from the road, in a good way?
THE DAY I MADE CROSS EYED JOE A STRANGE-MADE MANIAC WITH ONE DRUNKEN NINJA FLIP-KICK TO THE HEAD!!! He annoys me sometimes but I got his back, that's my special brother. LOL.
How do you keep yourself entertained when you aren't kick-flipping Cross Eyed Joe?
Actually while you all are outside in line, me and BROTHER AL jam out on every one's equipment when they aren't around.
Any tour horror stories that you would like to share?
HORROR OR WHORE?! LOL. Well losing "EMJ" was the worst. As for whores I once busted a bag of shit over a chick's head for dropping the N-BOMB too much and being very disrespectful. LOL. HOMIE DON'T PLAY THAT!
Where did you get a bag of shit to hit the whore with? Whose shit was it?
It was hanging on a parking meter across the street from bus. It was mine from the night before when I had to go really bad and was locked out of the venue after one of two shows. Since you can't shit on a bus I "Hot Bagged" it. That's where you basically line the toilet on bus with a bag and shit in it. Then wrap up n dispose of it off bus. It sucked, but was obviously meant to be.
Have you kept any souvenirs from tours that mean something to you?
I always keep some things here and there but for me the thing that means the most are the things she left behind. LOL.
What is the one thing you must have with you on tour?
Lysol. That shit kills 99.9% of viruses and bacteria!
Who is the best person to hang with on tour?
Brother Al or Jose.
Worst person?
MY ALTER EGO "SCERINTINO BALLFREDO!"
When was the last time that you were star-struck?
ROCK THE BELLS! BUSTA RHYMES! MY FAVORITE RAPPER/ MC DUH !! He kind of named me and didn't know it… "Here we go yo, here we go yo, so wha so what's the scenario."
What started you painting Tech's face?
Well I have always been a tagger and mild graffiti head. Shout out to TRIBAL GEAR for their support. But Tech just asked. Funny because he had no paint and I had to go in crowed and find something to use. Luckily some girl had a white eyeliner pencil. Still have the pictures. It was Tulsa or Oklahoma City, I can't really remember. I wrote "BAD"
Are the designs from top of your head or a discussion between the two of you?
We always pow-wow before a tour to discuss it. I should say that on the few occasions when I can't be there. Like CANADA. Jose our STAGE TECH does it. And a few times the old tour manager (Cory) would do it, BUT IT SUCKS! LOL.
Was there ever a time you had to redo it, due to you or Tech not liking the result?
Yeah I've wiped parts away and redone before, but I think it's only been two times. It just wasn't right and Tech just wipes the word out when he gets on stage. Those were just bad days sorry 'n shit. I hate that. LOL.
What is your favorite Strange Music song?
"Blown Away". I helped write the hook.
What is your favorite Strange Music album?
MAYDAY!'S, but you haven't heard it yet!
If you could do a verse for a song, which song would it be?
Used to be "Drill Team" I did the intro on that instead. But I grew out of that stage I'd say. Thank God! Now though, I'd say "Love Me Tomorrow".
Is there a song that screams "Scenario Theme Music"?
"Worst Case Scenario" by ¡MAYDAY! Or "Stage Lights" by Yelawolf.
Who would win in an arm wrestling match; Cross-Eyed Joe or Scenario?
I'm not sure. I wouldn't want to do that to him if it was me. He a good dude and gets enough shit. I'd probably let him win. But shhhhhhh! LOL.
What does the future hold for Scenario?
I'm going to start dabbling into the voiceover world. I want to be a cartoon's voice or that guy talking in movie trailers. Taking my voice and announcing skills to next level.
Any other parts of Strange that you wish to try your hand at?
Not right now. I'm cool with all I do now. In the future I do want to work on my A&R skills.
What are you looking to get out of your work with Strange?
When all is said and done I just want to be appreciated and respected for my part in this that's all.
Do you have any final words to share with the Strange Music Universe?
"GET READY 'CAUSE WE JUST GETTING STARTED."
Thank you so much for your time, Scenario. I would like to, as I am sure the entire Strange Music Family would as well, thank you for all your hard work throughout the years.
TECHNICIANS! When you see Scenario working his ass off, making sure you are hyped up between each set of each show–or just see him in general, let him know you appreciate his work. That goes for each and every member of the Strange Music family. We go to shows. We buy albums. We buy shirts, hats,etc. We should thank those that make all that possible.
Thank you STRANGE MUSIC! And thank you Technicians!
– Written By Richard C. Lavall