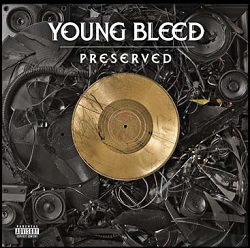 A gold record sits atop a pile of scraps made from old stereos and the twisted wires that once powered them to create sounds that are no longer relevant. Meanwhile, that gold record shines just as bright as ever. It may not have escaped unscathed, but it stood the test of time. This is the imagery that adorns Young Bleed's Strange Lane debut, Preserved. Like that gold record, Young Bleed once enjoyed his time in the top spot with Master P's No Limit Records. Following a top ten selling album, Young Bleed left the imprint and struggled to recreate that success. He spent years seemingly buried under the industry, trying to find his way back. Now, with Strange Music/Strange Lane, Young Bleed has climbed his way back to the top of the rubble that is the past, and is demonstrating that he too has stood the test of time. He's still Young Bleed, he's still Preserved.
Almost immediately, Preserved immerses listeners in a world of hustlers, petty criminals, killers, and survivors. The album opens with "Stamp On It", an authentically Southern banger infused with heavy horns that tremble like the sounds of the deadly swamps in Baton Rouge. Although not the strongest track on the album, "Stamp On It" manages to set an appropriate tone for what is yet to come. Wasting no time, Preserved jumps into one of the biggest collaborations that Young Bleed secured for the record. "Boot Up" featuring Juvenile is nothing short of a stomp worthy anthem. Juvenile kicks off the track and with his Dirty South drenched voice drops a respectable feature. Young Bleed's laid back style still shines despite the amped up production from Kevin Lamar Mitchell. One of Preserved's strongest assets is the various producers that contributed to the album. Spanning several different producers, the album still maintains a steady flow that ties in Young Bleed's down south roots.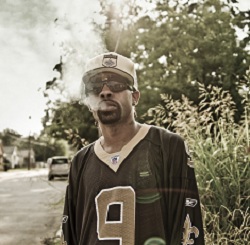 Preserved picks up steam rather quickly as the singles just keep coming. Only a few tracks in and listeners get the one-two punch of "Holla At Uh Dog" and "Hurt Nobody". While most listeners caught on to "Holla At Uh Dog" before the album's release, "Hurt Nobody" takes things into unfamiliar territory. Produced by Seven, "Hurt Nobody" swoops in and steals the show with its cinematic and elegant sound. The clean production gives Young Bleed a new direction to toy with and thanks to a mesmerizing hook from Destiny D'Lere Clifton, the track holds the necessary potential to break out as a single. Seven provides a considerable amount of production throughout the middle of Preserved. Mostly driven by synths, Seven's contributions to Preserved add an extra bit of grime and keep a consistency that carries the halfway point of the album. Seven makes his exit with "How You Do Dat Again", the remake of Bleed's massive 1997 single, "How You Do Dat". Joined by Tech N9ne and Brotha Lynch Hung, Young Bleed revamps the single and breathes new life into a track that most would consider a throwback. While Young Bleed and Tech N9ne do their part, it's Brotha Lynch Hung's feature that really surprises listeners. Dropping the cannibal persona, Lynch returns to his love of hip hop and flows through an intricate rhyme pattern that left no room in the spotlight for anyone else. Brotha Lynch Hung may not have been the most obvious choice for the collaboration, but he certainly ended up being the perfect match.
While most fans will enjoy hearing Young Bleed do what he does best, it's his risk taking that really pays off on Preserved. The lighter moments like "Wall Uh Fame" tap into Bleed's sincere personality, something that fans are sure to connect with. The gangster element of Preserved is necessary, but not always the strongest point as Young Bleed's creativity shines on catchier tunes like "Call The Police". The Zydeco inspired track allows Young Bleed to pick up the speed and experiment with his flow, something that Preserved could have used a little more of. Even so, there's no doubt that Young Bleed knows how to write street anthems. "Walk Like Uh Husala" and "Papa Papa" knock with aggressive synths that give Preserved some of the most hardcore bangers this side of the hood. When Young Bleed wants to sound like a boss, he does it, and he does it well.
Preserved serves as a resurrection of sorts for Young Bleed. No, he never really stopped making music, but his under the radar status left many wondering where he went. One thing to take away from Preserved is that although Young Bleed comes from a different era, good music will always remain good music. Southern gangsta rap like this may not be saturating the airwaves, but fans of the classic Louisiana sound will latch on to Preserved and find themselves caught in a story of real survival. Young Bleed's first offering to Strange Lane is a redeeming one. It's not old school, it's just Preserved.
-Victor Sandoval, Assistant Editor Strange Music
Follow Victor on Twitter: @VicMSandoval
Click here to purchase Preserved on iTunes.