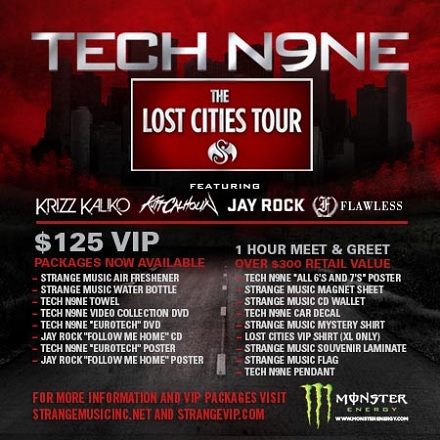 The newly renovated Emo's East in Austin, TX played host to the explosive performances on The Lost Cities Tour on 10/7. Opener Flawless smashed through yet another killer performance, leaving his mark on the Strange Music world. Without warning, Jay Rock followed up with a solo set that included the biggest hits from his debut, Follow Me Home. Fans in attendance got the biggest surprise when Tech N9ne debuted a brand new stage show for the first time on The Lost Cities Tour. Tech's new show included new selections from All 6's And 7's and never before seen choreography. Fans in Austin will forever have a special place on The Lost Cities Tour.
Facebook reactions:
"fuckin loved the show lastnight! got to meet part of the crew. got signatures and pics I even saw aqualeo in the crowd, and the dirty worms! (Honored that you kicked off KABOSH right here in the ATX) Flawless was the shit, i'm gunna be looking for him on the shelves or where ever. MAN lastnight was so crunk the rest of this month is just gunna be flat out boring lol can't wait for the next one so we can go even harder! We appreciate yall, yall are keepin it real and doin it how its suppose to be done. Much love to Strange Music…We ready to ride when yall say!"

"Dope ass show in Austin at Emo's east! T 9 tore that shit up! Money 1rtsent! Parking! Flawless! J Rock! Kut! Cali baby! Than you for the awsome show as always! Looking forward to the next one!"
Twitter reactions:
Tech N9ne Announces First Song On K.A.B.O.S.H.