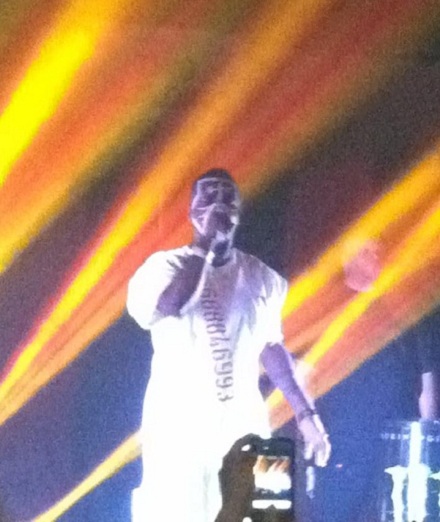 Strange Music made its way to Bakersfield on 10/22 when The Dome hosted The Lost Cities Tour. The night's festivities began with an opening set from Flawless, who is building a reputation as one of the tour's most energetic performers. Jay Rock was next to hit the stage, giving the packed crowd some heated performances of his most popular songs from Follow Me Home. Tech N9ne, Krizz Kaliko, and Kutt Calhoun then wrapped up the night with a nearly two hour set that spanned hits from all of Tech's biggest albums. The brand new set list was a hit with fans, who witnessed new songs from All 6's And 7's for the first time in a live setting. Bakersfield added to Tech's already long list of successful California dates on The Lost Cities Tour.
Facebook reactions:
Watch Tech N9ne perform in Bakersfield, CA.

FAN PICS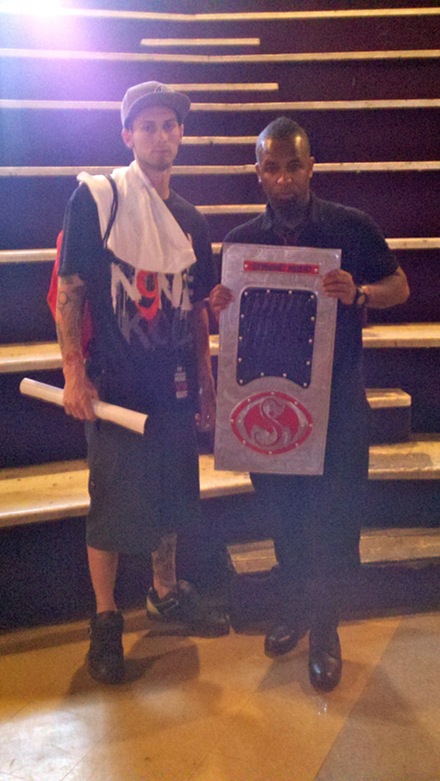 My name is kyle pounds and im from bakerafield ca. This is a pic of me and tech from the meet and greet for the lost cities tour. The thing he is holding is a piece of art I made for him out of sheetmetal that I made using a plasma torch, a beadroller, paint, and rivets to hold it all together. He was very impressed with it and was very thankful. He said he will definitely be hanging it up in his house. Hopefully someday ill see a pic of it framed and up on his wall. That would be soo dope! And I will be making him a different one every year he comes back to bakersfield cuz its something I really enjoy doing. He makes art with music, I make art with metal and with cars. And its just a way for me to show him thanks for all the great music and the love that he shows his fans, it really means a lot to all us technicians. There's nobody in the game that is as sincere and down to earth and level headed as tech. That's why he's the king! – Kyle Pounds
Send your pics and videos from the tour to fans@strangemusicinc.com!