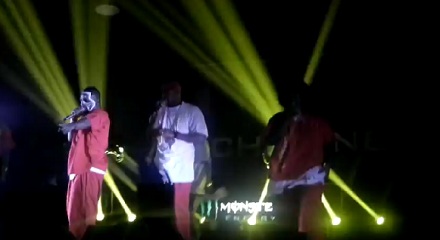 The Northwest got yet another taste of Tech's latest with The Lost Cities Tour on 10/29. The Halloween weekend brought out fans from everywhere as Strange Music got the party started at the Midtown Music Hall. Flawless rocked the packed crowd with his energetic stage show that has earned him a great deal of buzz across the country. Jay Rock followed with his own solo set that included his biggest hits from Follow Me Home.
Tech N9ne closed out the night with his headlining performance. Joined by Krizz Kaliko and Kutt Calhoun, Tech N9ne gave the crowd at the Midtown Music Hall a brand new set that included songs from All 6's And 7's and Welcome To Strangeland. The Lost Cities Tour added another explosive night to the already growing list of Strangeland spots.
Facebook reactions:
"Shitttttt you guys tore it up in Benddd!!!! You know you had a good night when you don't remember leaving your concert (: Come back soon we love you!!"

"Ur show in bend was amazingg ;)!!. Luv u tech!"

"!!!Tech N9ne show in Bend, OR was Sick as hell, Great Show Tech!!!"
Watch Tech N9ne perform in Bend, OR.

Send your pics and videos from the tour to fans@strangemusicinc.com!