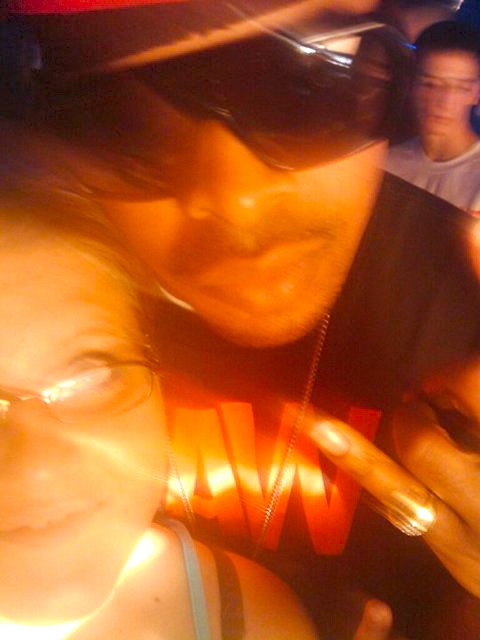 Jessica Veld is the type of person who bucks trends, so when she began hearing the hype surrounding some rapper called Tech N9ne, she nearly ran the other direction.
The year was 2003. Popular juggalo website RealJuggalos.com had latched onto Tech's music and was trying desperately to spread the Gospel of N9ne amongst it's thousands of readers. The website began a grassroots campaign to bring Tech to the annual Gathering of the Juggalos festival. The campaign failed that year, though soon after, Tech would become a staple of the event. But the website's efforts in spreading the word paid dividends in other ways and helped open up a whole new fan base for the rapper.
One of those new fans was Jessica, who finally gave in and decided to give this Tech N9ne guy a shot.
"I heard 'It's Alive' and was hooked from that moment on," she says.
Eight years and nearly two dozen shows across four states later, Jessica is a dedicated fan. She's also an aspiring novelist who completed her first novel last year and finds inspiration in Tech's music.
"'Blackened The Sun' stayed on repeat while I was writing the torture scene at the end. The dark tones and lyrics just put me in that mood to be able to write about dark things. Although, by the end of the scene I was doing more singing than writing," she explains.
Don't ask her to narrow down her favorite Tech N9ne album though. "Man, that's tough," she answers when I do just that. "You're kind of an asshole for making me choose."
We compromise on a tie between Anghellic and All 6's And 7's, primarily because of both albums' personal aspects. Few artists bare their soul, scars and all, for the world to see in such an open and honest way as Tech did on those releases, and Jessica feels that the bond between Tech and his fans is strengthened because of it. "[Those albums] made me feel like I know him on a different level than the typical fan/artist relationship."
As years passed, the Strange Music roster expanded beyond Tech N9ne and Jessica's musical horizons broadened. "I love me some Kali baby, but I have to go with Kutt," she responds when I ask where her loyalties lie outside of Tech. "His albums are all great, but B.L.E.V.E. is my shit. Not to mention, his stage presence is crazy."
Kutty Cal is also responsible for her most memorable Strange Music experience. Shortly after the release of B.L.E.V.E. at a concert in Detroit, MI, Jessica found herself in the front row during Kutt's set.
"No one else around me really knew the words, the album was so new," she says. Kutt noticed his most hardcore fan front and center and put her on the spot by sticking the mic in her face during the chorus of "Bring The Flame".
"I was sick as hell at that show and sounded like shit," she recalls.
Jessica no longer lives in Michigan. She's migrated south, to Madison, AL and now works as an accountant. In August, Tech N9ne made his first appearance in the area in years with a blistering concert in Nashville, TN. "The show was incredible," she says of the sold out, packed-like-sardines performance, "but he's got to find a bigger venue next time."
No doubt, when Tech returns, in a venue more suited for his growing fan base, Jessica will be among them.