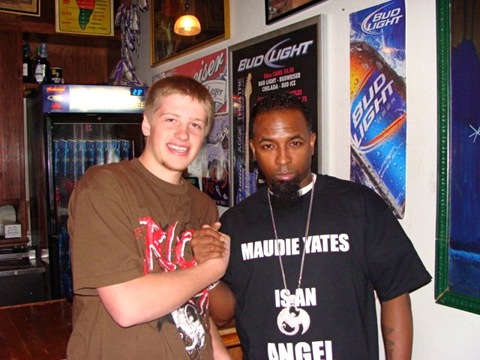 Do you remember the first Tech N9ne song you ever heard? Did it stop you in your tracks? Was music as you knew it changed forever? That was the reaction from one Denver fan, the first time Jeremy heard the unbelievably talented Tech N9ne on a road trip with friends four years ago. Driving across Kansas on I-70, an uneventful drive turned into a party when someone popped in Everready and blasted "Bout Ta Bubble".
"I listened to the whole album multiple times on that trip and was in awe of the talent I heard," said Jeremy. "I had never heard rap like that before, so musical with crazy fast flows and lyrics for all occasions. When I was visiting New York, I purchased Everready and was soon introduced to Vintage Tech. From there I have purchased nearly every album and mixed tape that Tech has ever created up until now. I am so excited for the release of Welcome to Strangeland and Klusterfuk."
Jeremy has gone through difficult times in the last couple years and has dealt with the loss of his family but being a part of Strange Music has helped him cope with that loss. Through the music, Jeremy can relate to Tech as they have shared many similar experiences in life.
"The artists on the Strange Music label never disappoint. I have personally met Tech, Krizz and Kutt as well as heard many others perform and they all amaze me with the talents they bring to the mic. I went to my first show in May of 2010 and was blown away. I have not missed a single show since then, and even made it to a private show Tech and Kutt did at the School of Mines in Golden this past year. Tech inspires me to keep going in life, never give up and do everything to my fullest potential."
Jeremy just turned 21 and his two year anniversary is coming up in November. To celebrate, he is going to buy himself and his lady V.I.P. tickets to the Lost Cities Tour, where he hopes to have a couple of Vinyl records he purchased from the HYPERLINK Strange Music Store signed by all of the artists there.
"I am so excited to see Tech perform again, I am encouraging all of my friends to get their 'techn9tiative' together and buy tickets to the upcoming show. The Kansas City King is going to throw down and it will be a party to remember. I am a huge fan and will continue to support Strange Music wherever it goes."
Tech N9ne continues to impress fans around the world with his mad rhymes and musical talent and with yet another tour underway and a new Collabos to be released on his birthday in November, Tech N9ne continues to increase his following with devoted fans like Jeremy .
– Written By Wendy Maddock