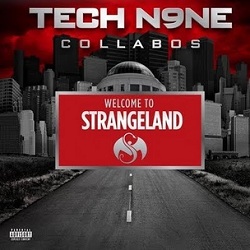 Welcome To Strangeland album.
The tracklist first made its way online via HipHopDX.com, where fans began blowing up the comments section. Twitter was just as busy with tweets about the album and all of the features. With 18 brand new tracks, the album will feature names like Prozak, Brotha Lynch Hung, Liz Suwandi, Ces Cru, and Young Bleed. The entire Strange Music roster will appear on the album, making it the first Collabos release to do so. Just weeks away from release, fans can expect Welcome To Strangeland to be a sign of bigger things to come.
Check out some of the comments on HipHopDX.com:
"GOD OF MUSIC!!!! Cant wait for this to album to drop cause I know Tech is going to back up that quote! G.O.M"

"I CAN NOT WAIT FOR THIS ALBUM TO COME OUT I AM BUYING 3 OF THESE FOR HOME THE CAR AND TO FRAME. STRANGE MUSIC THIS IS A TAKE OVER GET READY"

"Looks dope! Cant wait! Album of the year next to 6s & 7s..? Peace from Norway.. PS: Tech, come back soon!!!"

"18 tracks and they all sound like theyll be off the hook. tech n9ne knows how to deliver. cant wait till i get my autographed cd."

"this album is gonna kill it. all the new fans that came from the all 6s and 7s release get another taste of what strange music is about. lucky fans get a taste of 2 tech albums in a year."
Twitter reactions:
Follow Tech N9ne on his official Twitter page.

Click here to pre-order Welcome To Strangeland.