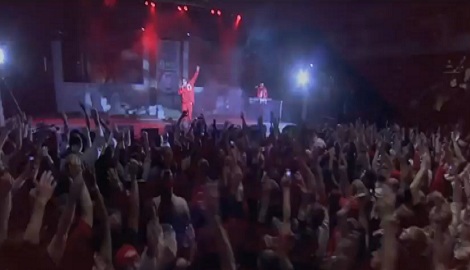 In a very special update to the fans, Tech N9ne recently released the "What You (The Fans) Did" video package that highlighted the independent king's blockbuster success in the past few years.
The exclusive video gives fans an in-depth look at what they have helped Tech N9ne accomplish – over 1.8 million albums sold independently, #4 on Billboard's Top 200, and over 200 shows a year. The exciting video quickly gained high viewership numbers as fans began spreading it across social media networks. Having helped Tech N9ne's success, fans everywhere celebrated their contribution to the massive independent movement behind Tech N9ne and Strange Music.
Check out some Facebook fan comments:
"I will be FOREVER ACCEPTING N9NES SOUL. Keep makin that fire music and you'll always gave my support. Strange!!! Music" – Cameron Curry

"Well deserved! No doubt! Im confident ill be listening to Strange Music til the day my heart stops….we appreciate Tech, Kali, Kutt, Travis and the rest of the fam…never stop grinding" – Devin Polite

"So inspiring that Tech did it on his own and is the biggest name in the underground and all the success." – Chris Jarvis

"We didn't do it, your hard work, loyalty to the fans, and determination did." – Matthew Corelli
Read more comments here.
Twitter reactions:

For the latest info visit www.strangevip.com.