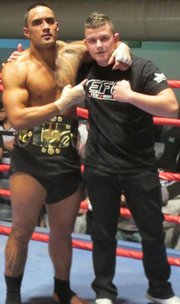 It's probably one of last places you'd ever expect to hear Tech N9ne's All 6's and 7's, but in the continent we like to consider the "outback," you'll hear exactly that, blaring through the headphones of an eccentric 17-year-old, Brandon Pignone, while training in one of the most prestigious MMA training gyms in Australia. You'd never look at Brandon on a speed bag today and see the struggles he's gone through, but without the inspirational music of Tech N9ne, this now fierce competitor says he wouldn't be alive today.
Before dedicating his life to kickboxing, Brandon spent a lot of his childhood being picked on and bullied. He has always been his own person and never been one to conform to normal standards. This eccentricity gave bullies what they considered a reason to make his life a living hell.
Brandon recalled a time when he was younger: an older kid came from behind him, and without cause, threw Brandon to the ground by his neck, and then sat on Brandon and pummeled into him. During the entire ordeal, he screamed that he was going to kill Brandon.
Another situation Brandon spoke about was when he had a knife pulled on him. Someone held to his throat and asked if he wanted to die. These instances, and many more, led Brandon into an extremely dark mindset. There were a lot of times when he had contemplated suicide, thinking it could be the only way out.
This hell Brandon had to live in was made somewhat bearable, when one day in 2005 he discovered Tech N9ne by saw the music video for "Here Comes Tecca Nina". Brandon was amazed. He saw this crazy-haired, crazy-bearded rapper spitting raw verses like he'd never heard before. He was hooked. Brandon says he knows Tech's been around for longer than 2005, but in Australia he can't get any Tech N9ne albums or gear. All of the albums he's gotten have been purchased online.
One of Brandon's favorite quotes is from "Last Sad Song" where Tech says "All I wanna hear is my peoples say Tech go ahead and do you, Y'all love my pain and I was glad to give it, But most of the people who love it never really had to live it". He says it makes him feel like Tech's saying that when he was bullied the bullies loved to see him in pain because he would just take it and not fight back, but they never had to live with the pain he felt.
There is a bright light at the end of Brandon's dark tunnel. Tech N9ne's music inspired Brandon to get out of that dark mindset, get up, get fit and do something about the bullying. Brandon decided he had had enough, and was going to learn how to box so he could defend himself. After nine months of boxing training, he was ready to step up his game, and began kickboxing, which he's been doing five-to-six days a week for years ever since.
Brandon's father, Bruno, describes Brandon as "a person of unconventional and slightly strange views and behavior" which a lot of Tech N9ne's fans can relate to and is why Brandon is so connected to Tech's music. Bruno also says that because of Tech N9ne, Brandon has gained confidence, maturity and grown as a man. Brandon has taken a journey from target, to contender, and is now a force to be reckoned with.
It just goes to show, that with a positive, motivated mindset and the forceful, inspirational and thought provoking music of Tech N9ne you can achieve any goal.
– Written By Ken Allison