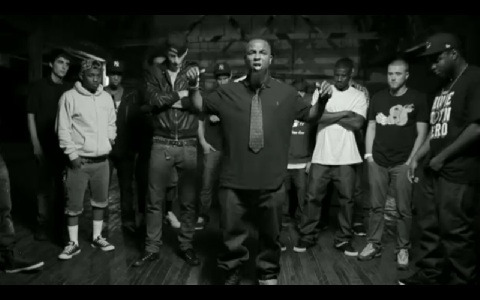 Following years of rejection by the major cable network, Strange Music's general, Tech N9ne, finally made his debut at the 2011 BET Hip Hop Awards. Taking things back to the power of rhyme, Tech N9ne was asked to join some of the most talented MCs today in a special Cypher segment that was dubbed "Indie Meets Mainstream". The Cypher was the first of many to air during the awards ceremony, and only minutes after Tech N9ne delivered his verse, he was a worldwide trending topic on Twitter. It was clear that when given the time to shine, Tech N9ne could stop the world in its tracks. Only twenty four hours after the awards aired, we spoke with Tech N9ne and asked him to share his thoughts on the Cypher. Excited and more confident than ever, he showed no signs of slowing down anytime soon.
Who came the hardest in your cypher?
Who came the hardest in my cypher? Sheeitt…
You can't say yourself.
I can't say myself?! Ok, umm…let's see. I like Machine Gun Kelly and B.o.B. Damn man, I mean damn…it's kind of hard to say, its like..I did dude. I think I'm the most original. I mean too, I started off backwards to front wards [spits flow]. I changed gears like four or five times [continues to spit flow]. It keeps changing. It's hella rhymey, it's weird, you know. I think I was the weirdest, I'll say that. I think I was the weirdest. I think everybody flowed like a mutherfucker, but I think I was the weirdest. That's why I think it stood out.
How big would you say this was for you and your career?
I think this was one of the biggest things to ever happen in my career because people always called me "devil worshipper" and "white people music" and all that kind of shit. So, I was on pins and needles because I wanted it to be perfect. This is my first time for real. Yeah, they played my video on Uncut, when Uncut was on. They played "Imma Tell", I had red spiked hair so it was more reason for my people to shun me. It was a big thing to have me on that. I was telling people I wanted to rep for our town. The response I got on Twitter like, "Damn that's tight, Tech reppin for KC. Made us proud." It made me happy because this is Black Entertainment TV, they said I wasn't suppose to be on that mutherfucker. I remember back in the day, BET wouldn't even have my name on there. They tried to get me to change my name from Tech N9ne because it was a gun. They wanted me to call myself Tecca Nina, and yeah, that's my nickname, but that ain't what I'm about to go by and confuse my fans, this, that, and the other, or confuse anybody for that matter. But to have me on there as Tech N9ne baby, big thing. I got to do my thing, "I'm reppin the red laces, but booted like I'm Iraq bound/ that frown will get you ate by my cannibal from Sac town" It was perfect, perfect. It was a big thing, a big stepping stone. A lot of people, you know on Twitter, they were saying, "That was my first time hearing Tech rap." I was like wow, you know, my name is bigger than me my friend. People got to put a face with the name last night, that's a fucking humongous thing that happened yesterday. For the King Of Darkness. For the King Of Darkness to be on Black Entertainment TV period.
Were you able to watch the Cypher before it aired?
Hell no, that's why I was on pins and needles. I don't trust anybody. So whoever's running the Pro Tools, they coulda started my verse too late. They was recording on Pro Tools when I was there. I just wanted it to be on beat, and I just wasn't sure, so I was shaking. When I was rapping, I was shaking, my whole body was quivering. Like, "Ok, please. I'm halfway through it, and I start smiling. Nothing fell off beat, I didn't stumble." It was just so wonderful man. When I got through it, I was so relieved, like fuck. Then, I started trending on Twitter. I'm like, "Oh my god, they like it." Cuz my flow is weird nigga, people might not get it [Spits cypher flow]. " Real rock, rap, and not to Xerox", you know what I'm saying? That's real rock and roll. They didn't know what I was talking about nigga, they was like, "What the fuck was that?" They coulda been, "What the fuck did he say? All I heard was something about popped eyes open while eatin me canned spinach." My flow is weird, it coulda been the other way around, but they dug it man. It's beautiful. I was on pins and needles, I ain't get to see shit before they aired it. I'm talking about, leading up to yesterday, I'm biting my fingernails like, "Ah shit, I hope they use it. I hope I was good enough for them to keep me in it." I'm a humble dude, I just do me. I'm not trying to do nobody else, I'm just doing me. I don't conform to nobody else's style or nothing, this is my shit that I've gather over the years, it's schizophrenic. It switches, it's changeable. I was fucking worried, but the response got me floating on cloud nine man, no pun intended.
Did they send you beat beforehand or how did it work?
Yeah they send you the beat. It's just back to the roots of hip hop, they just send you a break beat. James Brown "The Big Payback". " We want sixteen bars from you. This is your beat, if you can't rap to this then you're not gonna do it". [Imitates beat] Slow enough, but fast enough to do whatever. I coulda said [imitates chopper flow], I didn't want to do that shit. I wanted to rap. I wanted to show versatility and if you can't rap over James Brown "The Big Payback", then maybe you shouldn't be rappin. Like, "Nah, I need another beat." No, nigga I'm a MC. If they woulda gave me some Garth Brooks shit, I would rapped over it to be on that mutherfucker.
You shouted out Lynch in your verse, was there any significance behind that?
Yeah, I said, "Red laces, but booted like I'm Iraq bound/ that frown will get you ate by my cannibal from Sac town" cuz that nigga can rap his ass off. Like, if you mad at me because I'm here right now, that frown you got, nigga I'll sick my muthafuckin nigga on you, he'll eat yo ass alive. Lyrically and physically. I was flossin, I was flossin Strange Music nigga. We got murderers on this muthafuckin label. Literally. Tight.
How did it feel to know that you were trending on Twitter and that you were at the center of the hip hop world for the night?
That's crazy. I was on pins and needles. I didn't think people was going to get my flow right off that bat. Like, "What? What was that he did at the beginning? What the fuck was that?" Cuz you ain't heard no shit like that. Mutherfuckers ain't heard no nigga get on a rap and go [raps backwards]. I kind of did something like "It's Alive". It kind of sounds like it's going backwards, but it's going frontwards [spits cypher flow]. It's saying words, you know, nobody ain't doing that shit. So, I was worried, like, maybe people won't get it. What are they saying about me? Then they like, "Damn, Tech N9ne killed it." I'm like, "Whoa, they got it. It's my time nigga, they got it. They finally getting it!" I'm doing me, I'm not doing nobody else. I been doing me all this time, mutherfuckers like, "Eh, that's that devil shit, that's that white people shit." Then Wayne stamped it like, "Boom, this nigga dope. Put him on there with Andre 3000, nobody else." Wayne stamped it, thank you Wayne. Boom. Wayne stamped it, made niggas start paying attention. Now they get to put a face with the name, oh my god, perfect timing God dammit. Wow. God is good.
Click here to pre-order Welcome To Strangeland.
–Victor Sandoval, Assistant Editor Strange Music
Follow Victor on Twitter: @VicMSandoval