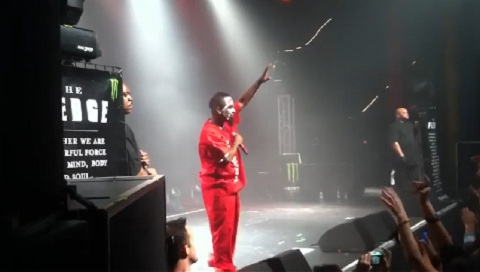 While Tech N9ne rolls on with The Lost Cities Tour, the surprises keep on coming. During a recent date on the tour, Tech N9ne unexpectedly announced that he will soon be shooting an official music video for "Am I A Psycho?" with B.o.B and Hopsin. As Tech told the packed crowd, the video shoot is slated to begin on November 29, less than a month after the release of Welcome To Strangeland. Hopsin later confirmed the shoot over Facebook:
"Tech N9ne, B.O.B and I are goin to be making the "AM I A PSYCHO" music video! Haha, im excited for this shit. Time to hit the gym on these niggas, I got legit motivation now. You guys pumped for it?"
Judging by the crowd's reaction, fans will be eagerly anticipating the music video from All 6's And 7's.
Click here to watch or scroll down below.

Click here to pre-order Welcome To Strangeland.