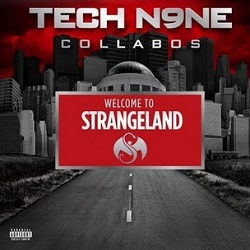 Welcome To Strangeland, Tech N9ne made a surprise appearance on Shade 45's The All Out Show with Rude Jude and Lord Sear.
Tech N9ne stopped by the show to conduct an interview and answer questions from callers. While at the station, Tech also debuted "My Favorite" featuring Brotha Lynch Hung and Prozak. Minutes after the new track was played, fans began buzzing on Twitter about Tech's appearance on the show. All of the recent news surrounding Welcome To Strangeland has certainly stirred up the Strange Music world. Could fans expect another single from Welcome To Strangeland? Stay tuned for more!
Follow Tech N9ne on his official Twitter page.

Click here to pre-order Welcome To Strangeland.
Did you catch Tech N9ne's appearance on Shade 45? What did you think? Let us know in the comments below!