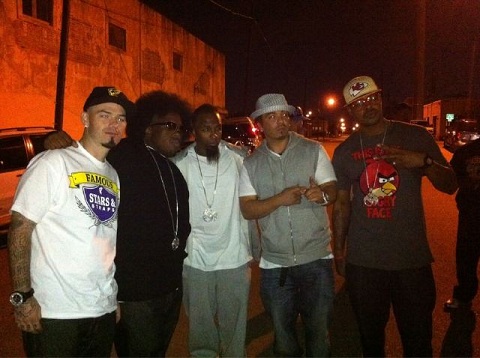 Currently in Texas for The Lost Cities Tour, Tech N9ne has been busy making connections and working with some of the most popular names in the area. Most recently, Tech, along with Krizz Kaliko and Kutt Calhoun, visited in Houston with Baby Bash and Paul Wall for a video shoot. Former Swishahouse MC, Slim Thug was also present to put it down for his native city.
This is certainly not the first time all the MCs have worked together. Paul Wall not only collaborated with Tech N9ne on "Get The Fuck Outta Here" and "Sumn' Like A Pimp", but also joined Strange Music for the Fire And Ice Tour in 2008. As for Baby Bash, he and Tech both appeared in Danny Trejo's film Vengeance. Baby Bash also collaborated with Krizz Kaliko and Paul Wall on his hit single, "Body Moves Slow". With so much history together, only time will tell what else comes from this South-Midwest connection. Stay tuned for more on Baby Bash's new music video, "Hot Box", featuring Tech N9ne, Krizz Kaliko, and Kutt Calhoun!
Follow Tech N9ne on his official Twitter page.

Click here to pre-order Welcome To Strangeland.
Do you think this could lead to more collaborations? Leave your thoughts below!