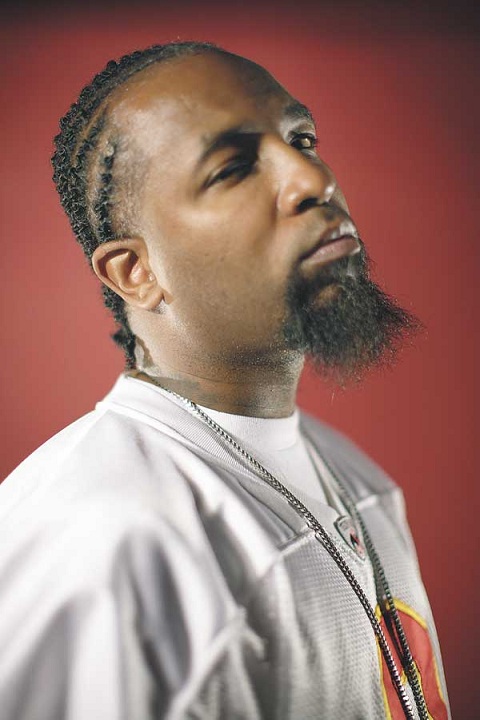 In a digital age where nearly every single unfiltered thought is shared through the internet, celebrities have received yet another platform for fame with social media. Twitter has quickly grown to be a literal who's who of Hollywood stars and musicians. The micro-blogging site gives these celebrities direct contact with their fans and in many instances, proves to be either their best asset or worst nightmare.
For someone like Tech N9ne, Twitter has turned out to be an incredible tool in his mission to connect with fans around the world. Whether he's checking in with exclusive photos or updating on his latest album, Tech understands the significance behind Twitter. From calling out fans to dropping bombshells , Tech continues to put out some the most entertaining and controversial posts on Twitter. We decided to take a look back at some of the greatest tweet from Tech N9ne in Tech N9ne's Top 10 Moments On Twitter.
10) Tech N9ne Ponders Women With PMS – No man may ever understand the inner workings of a woman's mind, but that didn't stop Tech from asking his Twitter followers to help him comprehend a woman's actions during PMS. In this hilarious sequence of tweets, Tech sincerely explored the reasons behind a woman's sometimes erratic behavior during PMS.
9) Tech Argues Titties With Nicki Minaj Fan – During an exclusive interview with XXLMag.com, Tech N9ne opened up about his VIP Meet and Greet sessions and revealed that he believed he had easily signed more breasts than Young Money superstar Nicki Minaj. The statement made headlines, but it wasn't long before shots were fired back at Tech by a very loyal Nicki Minaj fan. What followed was a short, but wild conversation between the fan and Tech N9ne that consisted of back and forth tweets. Tech soon learned that titties were serious business.
8 ) Tech Addresses Issues On "Worldwide Choppers" – When "Worldwide Choppers" was first announced, it was touted as the biggest and most high profile collaboration from Tech N9ne. The ambitious final chapter in the Chopper series would see Tech N9ne join eight other MCs in a showcase of elite lyricism and speedy execution. With names like Busta Rhymes, Twista, and Yelawolf slated to appear, the collaboration soon looked like it might be too much for a single release. Frustrated with legal aspects of the collaboration, Tech N9ne updated fans via Twitter and expressed his disappointment at the possibility of "Worldwide Choppers" not coming to fruition. Fans nervously followed every tweet from Tech as he openly discussed the issues plaguing "Worldwide Choppers". Fortunately, "Worldwide Choppers" would eventually be released in its entirety and with no further legal issues.
7) Tech N9ne Visits Lil Wayne At Riker's Island – When Lil Wayne spoke Tech N9ne's name in the summer of 2010, the entire industry turned its attention to the Kansas City King. Looking to follow up on Lil Wayne's request to work together, Tech N9ne made it a point to visit Wayne in person at Riker's Island. Serving an eight month sentence in prison, Lil Wayne had not seen many visitors. Tech N9ne managed to make the trip and spent nearly three hours in visiting with Wayne. Following their meeting, both MCs recognized just how much they had in common. The meeting would no doubt solidify their respect for each other as they eventually went on to collaborate on All 6's And 7's and Tha Carter IV.
6) Tech N9ne Reveals "The Pledge" – The tweet that started it all. Armed with a piece of notebook paper and a pen, Tech N9ne wrote down what would go on to become the official "Pledge of a Technician". Written as a means to bind all of his fan together, "The Pledge" would later be the focal point of All 6's And 7's. After Tech tweeted the image, fans wondered what "The Pledge" meant for them. Since its inception, "The Pledge" has found itself written on nearly everything, including people's skin.
5) Tech N9ne Confirms Collaboration With Lil Wayne Via Photo – Following months of speculation, Tech N9ne laid all rumors to rest when he tweeted a photo of himself and Lil Wayne in the studio during a visit to Miami. The photo created a huge buzz online and finally confirmed that Tech N9ne and Lil Wayne would indeed be collaborating. The studio session would later produce two collaborations, "F**k Food" and "Interlude".
4) Tech N9ne Gets Branded – Tech N9ne shocked fans when he logged into Twitter and shared the now famous photo of what appeared to be his body branded with 6's and 7's. Leading into All 6's And 7's, fans flooded Twitter with their excitement and confusion, as no one could confirm whether or not the brands were real. Had Tech N9ne really just branded his body in a painful display of creative genius? Fans would later learn that the brands were merely special effects done for the cover of All 6's And 7's. Still, would anyone really doubt that Tech would be capable of something like that?
3) Tech N9ne Confronts Lil Wayne Hater On Twitter -Although Tech spends plenty of time on Twitter addressing fans, it's a rare occasion when he actually calls out people with negative comments. That's exactly what happened in the fall of 2010, when Tech N9ne had heard enough from a particular fan criticizing his choice to collaborate with Lil Wayne. Frustrated and angry, Tech tweeted several responses to the fan, including "Fuck you and the fans who talk shit bout my blood homie." This would not be the last time Tech lashed out at a critic, but it certainly made for a controversial Twitter moment.
2) Charlie Sheen Wins Big With Tech N9ne – In what would become one of Tech's biggest moments of 2011, controversial Hollywood icon Charlie Sheen collided with Strange Music at the 12th Annual Gathering Of The Juggalos. Taking on the role of host for the night, Charlie Sheen introduced Tech N9ne to the thousands in attendance and even took photos with the Kansas City King. Charlie Sheen then took to his 5 million followers on Twitter to praise Tech's performance and music. The incident was covered by numerous media outlets, including TMZ.
1) Tech N9ne Blasts The KC Star For Rape Comments – Following the release of Tech N9ne's Seepage EP, The Kansas City Star published a review of the new EP on their website. While the review was pretty typical, Tech N9ne took exception to comments made by the critic that insinuated rape. Extremely angered and annoyed by the published comments, Tech N9ne tweeted up a storm blasting the critic and his remarks. Concerned over what his family would think, Tech N9ne attempted to clarify his lyrics and undo the damage that he felt the critic had already done. The controversy would inspire Tech N9ne to send the critic a direct message with his facepaint.
Follow Tech N9ne on his official Twitter page and stay up to date with the latest news and updates!
Click here to pre-order Welcome To Strangeland.
-Victor Sandoval, Assistant Editor Strange Music
Follow Victor on Twitter: @VicMSandoval