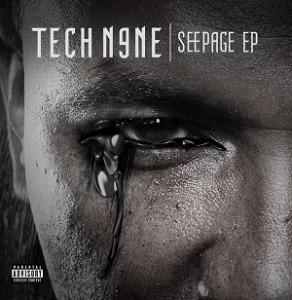 The Kansas City Star published a review of Tech N9ne's Seepage EP today. The review, for the most part, is a typical write up of Tech's music and the basis for the EP. The author, Joel Francis, really helps set the tone of the dark music on the EP, and seems to have a good handle on Tech N9ne's catalog. In trying to highlight the darkest points of the CD, the author had the following to say:
The blackest moment is the brief "Bite Me." Stopping shy of two minutes, the song opens with a snippet from an unmade porno before Tech N9ne fantasizes about vampirically raping a "teen ho." The female-sung chorus of "bite me/excite me" suggests the act is consensual, but the screams and pleas to stop through the song's fade reveal the truth. The sick savagery is reinforced with a creepy violin loop that recalls the "Transylvanian Lullaby" in "Young Frankenstein."
Tech took exception to the comments about rape and voiced his concern over his official Twitter. Turning to his fans for their thoughts, he tweeted this:
"Help me out Yaw! If dracula bites a girl against her will its not rape right?"

"That's more like assault right ?"

"Well maybe even attempted murder cause dracula kills but not rape right?"
He later showed his concern over the article as well:
Obviously disheartened by the words chosen in the review, Tech N9ne has shown that he is not shying away from voicing his opinion.
Click here for the full review.