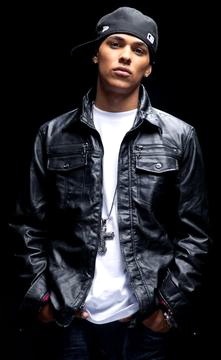 Flawless Real Talk has hit the ground running as the opening act on Tech N9ne's Lost Cities Tour, garnering much fanfare and positive response from those fortunate enough to catch the charismatic and captivating Atlanta emcee. His show boasts a live drummer along with plenty of movement, energy, and theatrics which serve as a perfect fit with the live show that Strange Music has become known for.
We talked to Flawless before his show in Spokane, Washington. In our interview he reveals how he came to be an opener for the Lost Cities Tour, his secret to live performance success, and even shares his hopes for one day being able to call Strange Music his home.
For the fans that might not know who you are, please give us a short rundown: who is Flawless and how did you come to be here?
Well my name is Flawless Real Talk. I inherited the Real Talk added on to the Flawless because my music has been so real and it's been so much about my life that my fans started calling it "real talk, real talk" so I started implementing it in my name, so it became Flawless Real Talk. I started out in Rhode Island. I had a rough childhood and found myself on my own when I was 16 so I started using poetry and music to cope with that pain and cope with the struggle that I've been going through. I put it all into music and I've been doing it ever since. It's been great and it's a great way for me to channel my emotions.
How did you become a part of The Lost Cities Tour?
I was in Atlanta, Georgia where I live at now. When Tech came down he gave us an opportunity to open up for him. We ended up doing extremely well at the show and when the tour was coming back around they gave us an invite to come on the tour and here we are.
You've been building up quite a big buzz from the fans on Twitter that are praising your live performance. What do you think you're doing differently from other openers who might not have gotten the same response?
I take a lot of pride in my performance. I don't just want to go up there and spit the tracks and just walk around. I want to be able to entertain. It's my job as an opener, especially when nobody knows who I am, to keep people there. A lot of times I see when openers are up, people will take that opportunity to go buy merchandise, or go to the bathroom, or go get a drink. I take pride in going on stage and demanding that attention to where nobody wants to get a drink, nobody wants to buy merchandise, nobody wants to go anywhere. I almost want to give the feeling that I don't belong opening and that's what I go for every night and I just give it 110 percent. With my live drummer it just adds more of a hip hop feel to it. The music is good. To me, I have a slogan, I call it "Let the music speak" because I don't like talking about it, I just want you to hear it and see it. I let that kind of explain it for me.
Are there any performers you saw growing up that have inspired you in your live performance?
Oh definitely. KRS-One. I'm from the New England area so I definitely was big into the New York rap scene, especially growing up. I saw KRS-One live a couple of times. The way he interacted with the crowd and the way his stage show was, was just totally different than a lot of other concerts I had saw where people were just going up and performing there songs and just standing there. I don't want to mention any names but there are about 90 percent of rappers out now that are making about 10 or 20 thousand a show that probably don't move more than 20 fucking steps. I take pride in trying to be all over the place and model after the people that I grew up watching that I idolized and I enjoyed watching rather than just doing what everybody else is doing.
Did you see shows that have inspired you in that they showed you what not to be like on stage?
Yes! I've seen a lot of shows like that, especially in my hometown. Anybody that came into my area, whether it was Rhode Island or Atlanta–when I try to take over I try to take over my area, so anybody coming into my hometown that was a major artist, I would make sure I got the opening slot. 99 percent of the time I would end up blowing them away because they would go just go up after me. I would go up there and with my live drums and doing what I do, it makes it tougher for the next person to impress if they're just going to go up there and rap.
You've actually been touring for a long time. Tell us about that.
I've actually been touring since the age of 13. My stepfather drove tour buses for a living. So he would take me out on the tours with him to just hang out and I just got to see the life and the lifestyle. I got a really insider's look on the hip hop game. I did two big tours with Nelly when he was really huge. We were doing big venues, arenas. I wasn't performing but I was there, witnessing and kind of learning the game. It gave me an early sense of what to expect and what it was going to take to get to that level of success.
As a performer, have you ever toured to this extent?
I've never toured this consistently with this wide of a range. I've done spot dates. I've done a few legs on tours with Wu-Tang, Raekwon, Public Enemy, but they were all five, six, seven, no more than 10 dates. For me to be on this entire tour, especially on the West Coast where all I've never had an opportunity to come out, being an independent artist and due to finance and everything. With Tech and Strange and everyone taking me along for this Lost Cities Tour, it's been an unbelievable experience and I have something to prove every single night to everybody that has no clue who I am, and make sure when they leave they want to hear my music and they want to see me again. It's a great challenge for me.
Despite your previous experience with touring, what has this tour taught you that all the other tours haven't?
Consistency really. The other tours were cool and I've always taken pride in my performance so I've never really had bad shows where the fans aren't loving it or anything like that, but with this tour it's just shown me more conditioning and consistency every single night. You have to make sure you do the right things, especially networking-wise with the people. After my show I go in the crowd and vibe with everybody. I make sure I touch everybody's hands and everybody gets a business card, make sure they know about my Twitter, make sure they come to the booth and get a signed picture. I make sure I interact with them and it's taught me just to be consistent and make sure I do it on an every night basis because we're in a different city, so I'm touching a different market every night.
Has the Strange Music audience been difficult to win over?
No. Actually it's really funny because I consider my music really versatile: I have a lot of lyrical things, I have stuff for the females, I have stuff that's just personal and about my life and normally when I've opened for Tech I just do my lyrical and underground stuff. With this tour being so wide-ranged, I've decided to put a couple of female songs in my set. Before the tour started, a lot of people were questioning it–they didn't know how it was going to be, but I know there's a lot of females at a Tech N9ne show. It's crazy when you have Juggalos going crazy over a song that has R&B in it–it's been an unbelievable experience.
What's it like to be around veterans like Tech N9ne, Krizz Kaliko, and Kutt Calhoun when you're on tour? Have they offered you any advice?
What I become when I'm around them is a sponge. I shut up, I listen, I watch and I learn because I can only learn from the best and I want to learn from the best. I feel that these guys are the best. I model everything I'm doing with my independent label after Tech and what they've done. When I see them and I see them reaching out to me it only motivates me more to become greater and become bigger. The only way I can do that is to learn from experiences. I like to learn from other people's experiences. I don't really like to learn my lessons (laughs) because sometimes they're not really good lessons to learn. So I always watch, listen and learn from other people so that way I can know what to do when I come across those situations.
Do you ever feel pressure to open up for Tech being that he's regarded as one of the best live performers in hip hop?
No. If I could right now I'd do a show for Jay-Z. The bigger the artist–it's more joyful than pressure. I never ever feel pressure because I feel such anticipation. Tonight we're here in Spokane and I can't wait to do the show because I know they don't know about me. The more people that I can reach the better it is. I did a show in Atlanta with 20,000 people with Ludacris and we killed that. It's never an issue about being pressured it's an issue of "when am I going to get them to hear it?" Before a show, when I feel that they're about to hear it, I'm so antsy and ecstatic about it because I know we're going to do so well and they're going to love it. That's the confidence I have inside of me.
You're going to do you and you know what to do no matter the situation.
Definitely. No matter what. If there's five people in there, five thousand or 20 thousand, I have the show that I do and I put 110 percent into my show every single time. If you're sitting in a chair and I'm only performing for you, you're going to love the show because I'm going to give you the same show.
How is it for a performer performing for only five people?
I've done it so many times back home when I first started! (laugh) I can't say how it would feel now because I was first starting out and it became bigger as I went along: five became 20 became 100 became 500 became bigger. Me, I never really tried to worry about who's out there or how many girls are out there if I'm going to do this song. I just know that I'm going to put on a great show and if you're in the building your'e going to see it, if not, you're going to hear about it.
How do you combat a small audience psychologically? I know there's a lot of performers out there that get bummed out from a small or inattentive audience.
I would just tell them to know what you're there for. Take pride in your performance. I don't know if a lot of artists take pride in their performance depending on who the artist is, but me personally, I take a lot of pride in it. I'm actually under the weather right now but I was sick as a dog in Portland. But right before I got on that stage I'm like "This is my job and this is the way I earn my shit." You just have to give it 100 percent whether there's a lot of people, a little bit of people, whether you feel sick or not, the show is the show and you have to make sure you deliver it every single time because there's critics everywhere.
Speaking of people who are able to do that, Tech N9ne. What do you think of him as a live performer?
Ah man. When I first saw him in Atlanta we weren't even opening up for him. I first saw him and we were in the crowd and I couldn't shake how bad I wanted to open for him because I knew it was going to be a great fit because of the type of performer that he is. He delivers so much more entertainment than just music. Just his movements alone really captivate the songs and the things he's saying. It just blew me away and that's why I wanted to work with him from the day that I've seen him because I was blown away by his performance and I wasn't blown away since probably KRS.
What's the secret to successfully sharing the stage with Tech N9ne?
Hunger. Drive. Determination. Passion. Talent. You just gotta have it all. You've gotta have it because Technicians are a tough crowd: they don't want to hear any BS, they don't even care about any BS, they just want to hear great music and you've got to bring it every time. It's almost tough to say but I go out there every night and I want to do better than Tech. I want people to leave there saying "That kid did better than Tech!" It's almost like a competition because I'm fighting for the top spot too. I think the successful way to do it is to never be intimidated and to just know what you can do and what you can bring to the table also.
There's been a lot of talk from the tour regarding who you're going to sign with. Can you shed any light on that?
Well honestly we've had a lot of talk about it. A lot of people are calling about what we're going to do and we've had a lot of options but I'm going to be the first to tell you right now: I want to be part of the Strange Music family firsthand. This is where I want to be. These are the people I want to be around. Everybody on this tour has just been incredible: from the crew, to the staff, to the artists. I couldn't be happier and I really really really hope that after this tour I can be part of the Strange Music family. If not I would still love to work with them but only time will tell. I'm just going to keep working hard and stay consistent.
Well we've heard great things about you from the fans on down, we really appreciate you taking the time to do this. We'll see you in KC.
I appreciate you guys, thank you. See you in KC and thank you very much.
Click here to purchase your tickets and VIP Packages to The Lost Cities Tour.
Follow Flawless Real Talk on Twitter: @FlawlessRI
WATCH Flawless rip up shop in Flagstaff, Arizona in the clip below!