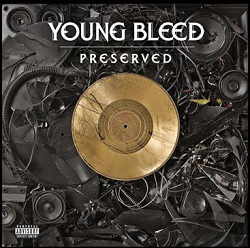 It turns out that fans weren't the only ones impressed by Young Bleed's Strange Lane debut.
A recent review from Pitchfork.com gave the Louisiana native some heavy praise and credited Young Bleed with tapping into his original sound without sounding outdated. The website, which is notorious for it's extremely critical reviews, gave Preserved a 7.9 rating. The lenghty reviews reflects on Bleed's past and manages to set up readers for an unbiased look at his latest effort. Comparing Young Bleed to Curren$y, the review notes:
"Of course, it's Young Bleed himself who primarily carries the record by focusing the listener's attention to his lyrics. Fans of Curren$y might find something to like here; Bleed's flow has always utilized a similarly slick, imperturbable delivery to buttress more intricately musical rhythms and rhyme schemes."
With Preserved already hitting big among the Strange Music fans, there is no doubt that Young Bleed is well on his way to climbing to the top of the independent rap game.
Click here to read the full review.
Click here to purchase Preserved on iTunes.