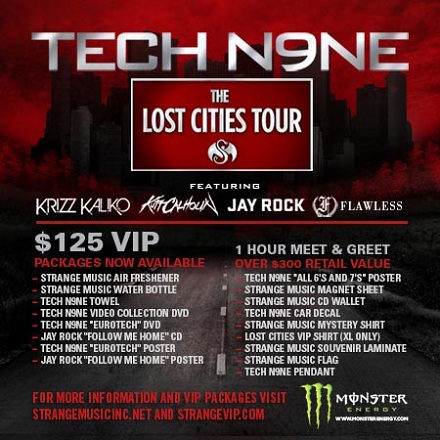 The hottest tour this fall kept up the momentum when The Lost Cities Tour hit Bemidji, MN on 11/16.
The Sanford Center hosted the sold out event, proving that no city is safe from Strangeland. Fans inside the packed venue enjoyed an opening set from Flawless followed by Strange Music's own Jay Rock. With a brand new stage show behind him, Tech N9ne then took to the stage for the night's headlining performance. Joined by Krizz Kaliko and Kutt Calhoun, Tech N9ne performed some of his most popular hits from All 6's And 7's and Welcome To Strangeland. With Minneapolis in their sights, the Strange Music crew moved on with their takeover in Minnesota.
Facebook reactions:
"Tha Concert You Juss Did In Bemidji On Wednesday, Was Dope Ass Fuqk, No Lie! iThink You Should Come Do Another One Sooner Than Planned!' LmfaO'. Fuhreal Thou You Should. Planning On Buying "Welcome To Strangeland" Soon Too! Aha"

"Tech I was at ur show in Bemidji Minnesota and all I can say is GOD status it was absolutley amazing ur the greatest rapper alive no doub,t keeping living life to the fullest and giving millions of people the gift of amazing music, much love Tech n9ne!"

"Tech the show in Bemidji last night was amazing, I'm honored to have it be my first real concert experience ever! 🙂 Also, can anybody tell me the name of the guy who they found in ATL again? He was definitely the non-Tech highlight of the show and I want to check out his shit if he has any up."
Watch Tech N9ne perform in Bemidji, MN.

Send your pics and videos from the tour to fans@strangemusicinc.com!