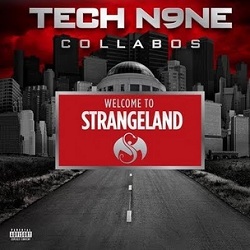 Traveling through Strangeland, Tech N9ne crosses paths with Kutt Calhoun and Jay Rock on the bass boosted "Kocky".
Produced by David Sanders II, "Kocky" knocks with some mean strings and gives Welcome To Strangeland its first street banger. Almost like an homage to the West Coast, the music is very deliberate in its stop and go rhythm, giving the MCs plenty of room to boss up. Gritty and larger than life, "Kocky" thumps like a beast as it creates a giant like presence for Tech N9ne. If bragging is the name of the game, then David Sanders' production is the perfect fit for this ego driven anthem.
Kutt Calhoun steps to the front with the opening verse, attacking with a flow that defines his confidence not only in the booth, but in Strangeland as well. Krizz Kaliko assists with a staggering hook, pushing "Kocky" well past your typical rap song and into something truly worthy of the stars. Thanks to its West Coast elements, Jay Rock slides right in for a verse that highlights his rough and booth tested vocals. The Watts native sounds right at home, especially when paired with Tech N9ne and Kutt Calhoun. Tech rounds out the track and takes a little more than just the spotlight with a seriously clean flow that commands attention. A little looser than his partners in rhyme, Tech takes more risks with his syllable choices and fires off rhymes as fast as his namesake. Tech's encounter with Kutt Calhoun and Jay Rock gives listeners a quick lesson in how to properly stunt inside Strangeland.
Jay Rock says:
" The song speaks for itself. Just we on our playa shit, our cocky tip. Tech he called me, said he had this record, so I went down and recorded it. You gotta be cocky. You gotta have that confidence. Cocky is confidence."
Click here to purchase Welcome To Strangeland on iTunes.