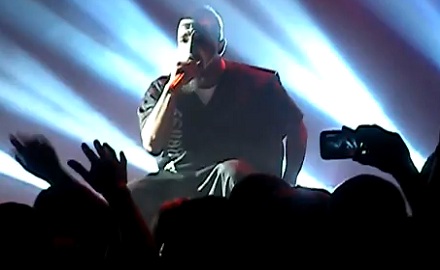 The Lost Cities Tour took a dark turn in Denver,CO. For one night only, fans were drawn into the twisted mind of Tech N9ne for the Lost In The Dark Experiment. The special one night event would give fans an exclusive performance, never to be seen again.
Flawless and Jay Rock opened the night with separate solo performances that gave the Denver crowd a taste of the original Lost Cities Tour line up. The packed crowd knew what was next as they eagerly anticipated the arrival of the King Of Darkness and his brand new stage show. Tech N9ne took to the stage with Krizz Kaliko and Kutt Calhoun for an exciting performance that had everyone at the Summit Music Hall swaying to hits like "Strange Music Box", "Technicians", and "Low". The one night only event proved to be a big success and solidified Denver as Tech N9ne's biggest market.
Watch Tech N9ne perform in Denver, CO.

Facebook reactions:
"Tech went to hard in DENVER at the Summit music hall"

"The concert was #EPIC last night God bless & I kept my one finger up the whole time for m.j. and much respect for doing that before every show!!"

"Lost in the Dark Experament = A success if you ask me… Best show I have ever seen. and Denver is the only one who got it suckaaasssss!!! HAHA! # Tecca Ninna"
Send your pics and videos from the tour to fans@strangemusicinc.com!