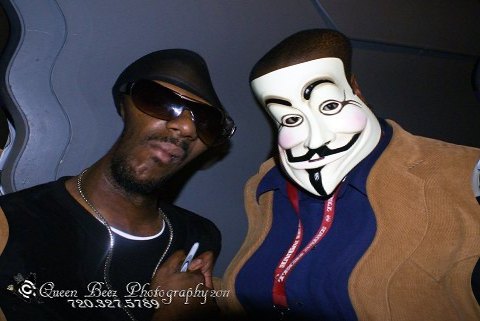 Fans of Brotha Lynch Hung's appearance on "My Favorite" from Tech N9ne's Welcome To Strangeland may have even more great music to look forward to thanks to a recent meeting.
As one of his two guest spots on Welcome To Strangeland, "My Favorite" let Brotha Lynch Hung leave his stamp on the Collabos album. Produced by Strange Music MVP Awards Producer Of The Year winner, Jomeezius The Genius, the track went on to become a big hit with fans who had been waiting to hear from the West Coast cannibal. As Lynch prepares to unleash the savage Mannibalector on listeners, the two musicians may look to work together yet again. A Facebook update from Jomeezius The Genius revealed that the two had recently connected in Denver:
"Jomeezius and Brotha Lynch Hung finally linked up this weekend at the Brotha Lynch show in Denver….we chatted and I personally gave his camp tracks for more potential collaborations…stay tuned…STRANGE MUSIC!!!"
Just what will come of the meeting? That remains to be seen, but if "My Favorite" was any indication, fans have plenty to be excited about.
What did you think of Jomeezius' production on "My Favorite"?
Do you want to hear more from Jomeezius and Brotha Lynch Hung?
Let us know in the comments below!