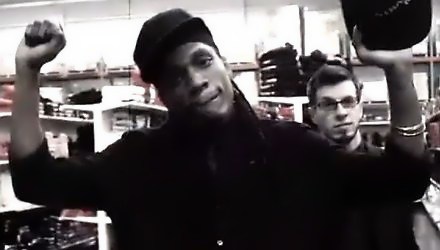 Strange Music is proud to announce that it has signed the Kansas City rap duo, CES Cru, to its roster. CES Cru, composed of Ubiquitous and Godemis, is one of the most respected rap groups in Kansas City. The group's second album, 2009's The Playground, earned critical acclaim thanks to such songs as the break-up anthem "DYT", the chest-thumping "Float" and the politically-charged "Teeter".
In fact, the high-impact material on The Playground was one of the primary reasons Tech N9ne wanted to sign CES Cru to Strange Music. "CES Cru has been working hard at this rap thing for years," Tech says. "I've made songs with them and performed with them, so it was time to make it official and sign them to Strange Music. They make beautiful music."
The members of CES Cru are preparing for the release of solo mixtapes. Ubiquitous' Matter Don't Money, which features the standout selections "Harmony of Spheres" and "Larry David", will drop in early 2012. Godemis' The Deevil will also come out in early 2012, prior to CES Cru's debut Strange Music LP. The duo is starting the pre-production process with Strange Music production stalwart Michael "Seven" Summers (Tech N9ne, XV).
"This is like passing the bar or something," Godemis says of signing with Tech N9ne's Strange Music. "It's a really big deal. It means everything to me. I feel super-validated. We've been working for a really long time and this is the best place we could be."
Welcome CES Cru to the Strange Music family in the comments section below!