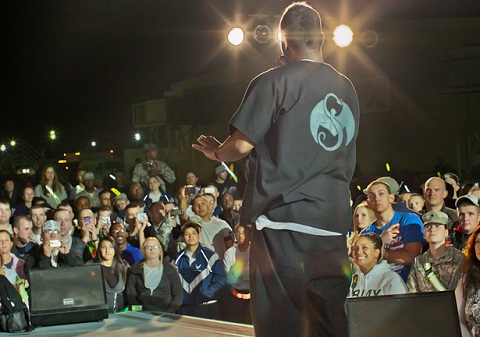 Shortly after releasing the highly emotional single, 'The Noose", Tech N9ne traveled to the Middle East and gave the US troops a very special holiday gift as he performed a series of shows in conjunction with the USO.
While in the Middle East, Tech N9ne spent quality time with the troops that included meet and greets and intimate performances of his biggest hits. With the successful USO tour wrapped up, Tech N9ne released a new statement on his experience with the US troops:
"What affected me the most about my visit to the Middle East was how amazingly pleasant and humble those who are serving our country were, even while under some of the [roughest] and most secluded living conditions imaginable," he explained. "They showed my crew and I the most love imaginable for coming and giving them a piece of the USA, and that's exactly what we did. I told them every night that I would go into the middle of a war zone to show my appreciation for their bravery."
Reflecting on the significance of his visit, Tech N9ne made it clear that both he and the troops will forever remember the trip to the Middle East.
Click here to read the full article.
What do you think about Tech's comments?
Have you seen the photos and videos of his visit to the Middle East?
Let us know in the comments below!