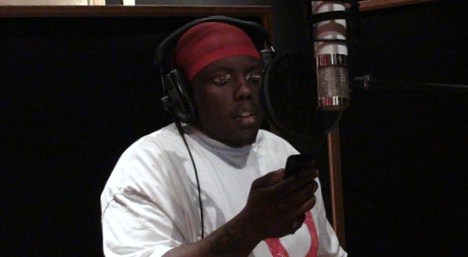 With so many Strange Music releases lined up for 2012, Krizz Kaliko is making sure that Kickin' And Screamin' stands out from the pack. Already considered his best album yet, Krizz Kaliko hit Twitter to reveal new details behind the making of the project.
Over the past few days, Krizz Kaliko stepped his Twitter game up once again to interact with fans and drop news on Kickin' And Screamin'. Among the new updates, Krizz Kaliko revealed the following:
Both underground and mainstream stars will appear on the album.
Twiztid raps like Krizz Kaliko has never heard before.
There will be rock influenced music on the album.
The 816 Boyz are confirmed for an appearance.
Krizz Kaliko and Strange Music may drop something from the album soon.
Travis O'Guin called the album "Vitiligo on steroids".
Krizz hinted at chopper like flows on the album.
Due for release on 5/15, Kickin' And Screamin' is shaping up to be a monstrous record for Strange Music's resident genius. What other surprises could Krizz Kaliko have in store? Stay tuned for the latest on Kickin' And Screamin'!
Follow Krizz Kaliko on Twitter: @KrizzKaliko
What do you think about the news?
Do you think this might be Krizz Kaliko's best album?
Let us know in the comments section below!